Timberline's Jamin Faalogo didn't need much convincing to give rugby a try three years ago. The kid just loves contact.
Not surprisingly, such a mindset translated very well to the football field where Faalogo has spent the last two years developing quite the well-deserved reputation of being one of the area's bigger hitters.

Ask him what position he'll be playing on defense this year for the Blazers and you'll notice his eyes grow a little larger with excitement, while a slight smirk appears on his face before he answers.
"Middle linebacker," the incoming senior said with much glee, almost like a shark sensing blood in the water.
It will be a new position for the 6-foot-3, 230-pound Faalogo, but one that seems like a perfect match. Prior to this year, he has been a jack of all trades on the defensive side of the football since arriving at Timberline.
As a freshman, he was a defensive lineman. The following season as a sophomore, he showed just how versatile an athlete he is after regularly lining up as a cornerback. And this didn't just occur during some mop up time in a meaningless game. It happened frequently, including during Timberline's first round match-up in the 3A state playoffs in 2016 against two-time defending champion Eastside Catholic.
Faalogo was tasked with covering David Pritchard, now a freshman wide receiver at the University of Washington, in the second quarter.
All Faalogo did was pick off a pass and return it 64 yards for a touchdown against the Crusaders.
"I remember thinking, 'What am I doing here?'" said Faalogo about playing corner two years ago. "It didn't feel like I belonged at corner, but I ended up doing pretty well. They just move me to wherever they need me."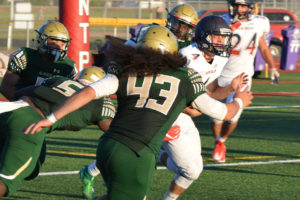 Last year, he played a somewhat safety/outside linebacker hybrid roll. But whatever you call it, he was extremely effective at it, earning first-team all-league honors in the 3A South Sound Conference as a defensive back after tallying 74 tackles, six interceptions and five sacks.
Three times he found the endzone on a defensive score in 2017, helping the Blazers advance to the state quarterfinals for the first time since 2006.
Simply put – Jamin Faalogo is a defensive playmaker capable of turning any play into a highlight reel.
And now he's manning the heart of Timberline's defense. Opposing ball carriers, you have been warned.
"I like being the physical guy out there," Faalogo said. "I want to set the tone for the game."
Already drawing interest from UCLA, Oregon, and Wyoming, among other schools, Faalogo will play a large role in the Blazers' attempt to successfully defend their conference title and make a third consecutive trip to the state playoffs.
Gone from last year's defense is linebacker Mason Simeta, the SSC's defensive MVP in 2017, Connor Warick, last year's conference's lineman of the year, and a handful of other quality players, but Faalogo believes despite the turnover, Timberline will have no problem continuing its tradition of playing stingy, hard-nosed defense.
"My role this year is pretty much being patient and destroying everything inside and going sideline to sideline if it's to the outside," Faalogo said. "We had a strong linebacker corps last year, but this year we have the same thing. We only have two linebackers now and both of us are strong and fast. We both have that physical mentality. The rest of our defense knows we have to be physical because we aren't that big. Everyone has that mentality, which makes us scary."
It's a mentality Faalogo had installed early on as he has never been one to shy away from contact.
"I think it clicked as soon as I started to play," Faalogo said. "I've seen videos of people hitting hard and I had a feeling inside me like I want to hit just like that. So when I was younger, I would always hit hard in practice even if I wasn't supposed to just so I would do that when I played in games."
With his long hair protruding out the back of his helmet, covering up the No. 43, it's plain to see who Faalogo patterns his game after – former Pittsburg Steelers great Troy Polamalu.
"He's was the main reason I started growing my hair out," said Faalogo, who has successfully matched Polamalu's trademark hairstyle. "I saw him play and I wanted to play just like him. I wanted the long hair. I wanted to be hitting everyone like he did. When I was sophomore as soon as I saw jersey number 43 was available, I had to have it."
You can count on that number being called over stadiums' PA systems plenty in the fall as Faalogo settles into his new defensive position.
"My expectations for this season are for my team and I to play hard every single time we step on the field. Some team goals I have are for us to learn from every game and every practice so we can understand what problems there are and what we can do to fix it. And my personal goals are for me to outwork everyone I play against and never let anyone work harder than me," Faalogo said. "My senior year is going to be a lot to handle, but it's nothing I'm not use to."