What does Santa do in the summer? It turns out he and Mrs. Claus live right here in Thurston County. I thought I spotted him one day in a restaurant, but how could I be sure? Another day I watched a jolly, white-bearded man in red shorts get into a cherry red Chevrolet right in front of Lacey Shoe Repair. My heart started racing, but I was too late to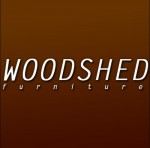 catch him. Then, in the perfection of Christmas magic, our paths crossed the very next day. Santa was getting a beard touch-up at Front Stage Hair Salon. Nana Claus was there, too, waiting patiently. She produced a candy cane for me from her satchel. Life truly gets better and better.
Santa-John and Nana-Claus really do live in Olympia (at least some of the time). They're not hard to spot in their festive, seasonally inspired wardrobe.
"My wardrobe is red, green, and white," explains Santa-John. His very first suit might have come from Craigslist, but no longer. Nana-Claus is the seamstress behind both of their outfits. This time of year it's summer casual with red shorts and a print shirt. When you are lucky enough to be at the same place at the same time as this delightful couple, your proximity to joy will remind you of the genuine goodwill that allows the season to shine.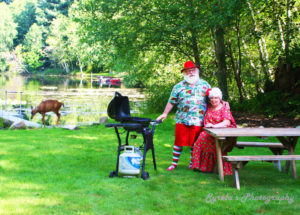 It all began six years ago after John was coaxed by a Costco gas station attendant to dress up like Santa. The couple was inspired to attend their first Santa convention, an annual event put on by NORPAC – SANTAS, North Pacific Santa Association, which happens at the Great Wolf Lodge. Not having a clue of what to expect, they were overwhelmed and enchanted. "We had no idea," Nana-Claus recalled about what to expect or what was involved. Their Christmas bells have been ringing ever since.
Initially the couple worked with a local photographer who set up creative shoots. This gave Santa-John and Nana-Claus the time get acquainted with the people wanting the photos. The couple has always focused on creating special experiences. Rather than a grab and go photo moment, the time spent is low key and quiet. They love to talk with the children and are forever flexible with the needs of the situation or family. "It's about the experience," emphasizes Nana-Claus. They especially like to provide special moments for families with special needs. "Home visits are really special," she said as she remembered the times they get to be part of celebrating Christmas with a service member who missed being home last Christmas with relatives.
Proceeds for their visits are directed to a fund at their Sunbreak Church, which helps to sponsor them on regular mission trips around the globe. They have traveled the world. People all over recognize the holiday icon. "Santa is universal," said Santa-John with a smile. The couple attends private birthday parties and welcome home celebrations. If you make arrangements to get together with Santa-John and Nana-Claus, you might learn the Reindeer Macarena. Now that's a crowd pleaser! They have repeat customers and do corporate events. "We love it," exclaimed Nana-Claus.
For those who want the up-to-date info on Santa business, here's the scoop:
The reindeer are currently on vacation, too, getting some rest but staying in shape. The elves are busy with research and development with noticeable attention to the space program technology. Santa does like cookies and the reindeer like carrots. Christmas Day may be on the distant horizon, but it is never too soon to bring kindness to the table. Naughty or nice, it's always up to you. Don't believe me, ask Santa-John.
Is he the "real" Santa? Good question! Put that to Santa John and he'll respond with a twinkle in his eye.
"What do you think?" The back of his phone is red. His glasses are red. The buttons on his shirt all have SC on each one. He's been known to pass out candy canes through his car window. He's a member of the International Brotherhood of Real Bearded Santas. Their daughter is named Holly Noel, and was born in April (years ago). "The name fits her perfectly," added Nana-Claus.
By the way, Nana-Claus was the July face for the Mrs. Claus Sisterhood Facebook page.
In December, you will be able to follow Santa with NORAD, the North American Aerospace Defense Command. The NORPAC convention at the Great Wolf Lodge in October will ends with a parade of Santas. I'll let you decide. But, you know, we all have to live somewhere.
"I love to see people smile," said Santa-John.
I'm still grinning.