It is the time of year for lemonade, cotton candy, ferris wheels and hot deals. Washington regional fairs are summer's ticket to fun for all ages. Eddie Nelson and Allen Starkey, owners of The Olympia Furniture Company, will be in the thick of things. They are loading up their trucks and heading to both the Southwest Washington Fair in Chehalis and to the Washington State Fair in Puyallup with special pricing on furniture and accents, in other words – on life and home improvements.
The Chehalis location will feature Tempur-Pedic mattresses, Trager grills and exquisite Cozzia massage chairs. In the large Puyallup space you will be able to sit on reclining sofa sectionals, touch the solid wood bedroom sets, and test-drive those amazing massage chairs with digital adjustments and a bevy of benefits. "You can touch it, feel it, and check it out," said Nelson about all the furniture on display. Additionally, you can take advantage of the Fair prices that people wait all year to cash in on. Nelson assures customers that they will be able to make purchases in Olympia at the westside store, but the Fairs will showcase a few extra items that are not currently on display in the store. See those for yourself plus enjoy all the popular Fair offerings – screaming rides, crazy food and cute farm animals.
The Olympia Furniture Company knows about making events memorable. Last month the store marked its fifth anniversary with a giant tent sale. There's always something going with those guys, including vlogs. In addition to all the fair activities, the Olympia Furniture Store has teamed up with The Little Red School House, which collects supplies like backpacks and binders for children returning to school. Your donation translates to free local delivery of your new furniture through the month of September. This has become an annual collection event for The Olympia Furniture Company, which loves to partner with the community. Last year the donations exceeded expectation. "It's getting bigger every year," said Nelson.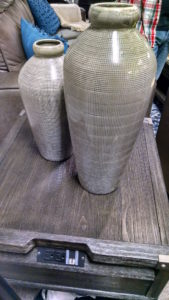 Being connected with the community speaks to the hearts of the owners. Recently, they sponsored a hygiene drive to benefit SafePlace Olympia, Senior Services for the South Sound, the YWCA of Olympia, the Family Support Center of South Sound and the Olympia School District. This was done in cooperation with Guild Mortgage. Seahawks fans will already know that six players have come to visit the Olympia Furniture Company. Both Nelson and Starkey are huge Hawk fans and love the energy these events bring to town. People have been known to wait in the parking lot for longer than you might imagine.
The Olympia Furniture Company goes the extra mile to select inventory. The owners build relationships with customers, ask what they hope to find and then work to find it if it's not already on hand. Nelson and Starkey take turns going to an enormous convention in Las Vegas each year to look at inventory, monitor trends and make selections. After walking through 3, 15-story skyscrapers filled with furniture, they make decisions. Furniture these days is often multi-functional such as coffee tables with discreet storage and USB ports and extra outlets.
A new couch or mattress might not be on your current to-do list, so, stopping into a furniture store may not even be on your radar. However, here is something to consider. Eventually you will need something because your family gets bigger or smaller, things break and get old, or your needs change. Maybe it is as simple aa wanting to freshen up the look of your living room. It's fun to dream, and the showroom is filled with creative ideas, like the red box table from India. Definitely take a bit of time to meet the helpful people at Olympia Furniture Company. Nelson and Starkey go to great lengths to offer a wide range of pieces with equal attention to pricing. They know everyone's budget is different. They also understand that the Pacific Northwest has its own quirky tastes and styles. "You don't have to leave town to get what you want," assured Nelson.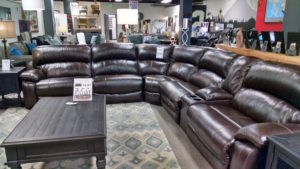 I had my furniture epiphany when Nelson demonstrated the lift chairs that line one of the walls. These savvy chairs take a person from standing to sitting and back up again with the push of a button. I don't need this chair for myself (yet), but I help my aging mother and her 98-year-old husband. Getting in and out of a sitting position gets harder as time goes by. The chair allows people to sit down and get up with ease, without the assistance of someone else. One model even has heat! A little help goes a long way.
Visit them at the Fairs!
The Southwest Washington Fair in Chehalis runs August 14 – 19.
The Washington State Fair in Puyallup runs from August 31 – September 23.
Olympia Furniture Company
2302 Harrison Ave NW #101, Olympia
Monday-Saturday: 10:00 a.m. – 7:00 p.m.
Sunday: 12:00 p.m. – 5:00 p.m.
360-338-0638
Sponsored