Every month The Sweetest Things, a gift boutique in Lacey, partners with a different nonprofit community organization to benefit them in some way. "I wanted to be proactive with my mission," says owner Jeff Gibson, "which is to empower women in business and the community." And he wanted to put more support into the community side of the mission.
After discovering that August is statistically one of the most popular months for births, Jeff decided to reach out to the South Sound Reading Foundation, and they agreed to host a book drive for baby board books.
To donate, bring in gently used or new board books for babies and toddlers to The Sweetest Things, where they will have a drop box along with other printed resources and information from the South Sound Reading Foundation. And with each donation, customers can get a 10 percent discount off a purchase from the store.
Donations from the book drive will directly benefit the foundation's Books for Babies program, which serves families in Thurston and Mason counties, providing over 2,500 books each year. As well as books, the program also provides information on early literacy and brain development to families leaving the hospital with their newborn.
"It is just one of our many programs aimed at getting books to kids who need them or who may not have access to quality reading material," says Emily Ecker, development director with the South Sound Reading Foundation. The foundation's Born to Read program also offers board books and resources to low-income families through their pediatricians office for their babies sixth month check-up.
"The ability to start reading to your kids right off the bat is really important," shares Program Coordinator Korie Jennings. "Research shows that reading regularly with babies helps with brain development, family bonding, and helps with school readiness. There's a whole world of reasons to start reading as soon as possible."
In fact, reading to your child helps to nurture their cognitive and emotional development. Cognitive development includes language skills, memory and processing information. Reading aloud to your young child introduces them to new words they might not otherwise hear, and children learn language from what speech they hear. Even reading to baby, who may not be speaking themselves yet, helps them to develop emotional attachment and bonding with their parent.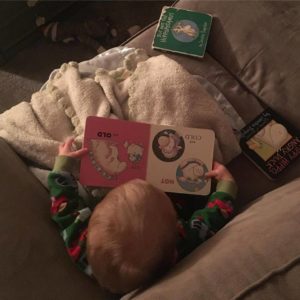 Board books are great for babies because they are sturdier and can be easily cleaned. And as baby grows older they can learn to help turn the pages as they read along. Board books are a high need for the reading foundation, as used board books in decent condition can be difficult to find.
When choosing books for babies and toddlers, South Sound Reading Foundation recommends ones with simple patterns, rhymes and songs, such as The Wheels on the Bus, or other nursery rhyme books. Books with colorful and simple drawings of everyday objects allow babies and toddlers to point and name items that they see. And interactive books with flaps, touch textures, or other moving parts help keep kids engaged with reading as well.
The reading foundation recommends reading with your child for 20 minutes a day, usually for about 5 to 10 minutes when they are interested. Even reading a few minutes throughout the day can make a great difference.
But bringing books to babies and new parents is just one of many programs run by the South Sound Reading Foundation. They also do a lot of literacy outreach and engagement with families and children in daycares, preschools, elementary schools, and the community beyond. The reading foundation is also currently gearing up for back to school events and distributions in the coming month.
The South Sound Reading Foundation's impact has reached thousands since their beginning in 2001, about 40,000 children and families a year, to be exact. Thanks to their work in the community and schools, fourth grade reading levels in the service area are up by 11 percent, as well as an increase in graduation rates. It's clear to see that the reading foundation has impacted the lives of many children. And early literacy and Books for Babies is a huge part of that road to successful learning.
In August, stop by The Sweetest Things, and help support the South Sound Reading Foundation by donating your gently used board books. For more information, visit Sweetest Things Facebook page, or the South Sound Reading Foundation website.
The Sweetest Things
Monday – Saturday: 10:00 a.m. – 6:00 p.m.
730 Sleater-Kinney Road SE, suite E, Lacey