Back to school shopping is expensive. In addition, it can be more complicated for teens. Finding affordable clothing that fits our personal style can be tricky. The list of back to school basics usually includes clothes, shoes, accessories, school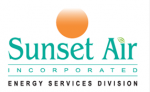 supplies, and often haircuts too. All of these necessary items can really add up, costing families a lot of money. Like many other teens, I don't have hundreds of dollars to spend on back to school shopping. So, I went on a mission to find thrifty, trendy, and local stores with my fellow teens in mind.
A great way to find less expensive, quality clothing is thrifting (buying secondhand clothes at either chain stores like Goodwill or from smaller, local shops). I visited some thrift stores in downtown Olympia to investigate their selection and prices. I also went to Value Village, which is part of a larger chain.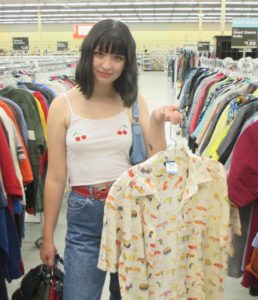 I started at Dumpster Values, a cute thrift store in downtown Oly where I found several items that I thought would be perfect for back to school. I found two skirts, a $16 green plaid and an $8 maroon velvet mini-skirt. My favorite Dumpster Values find was a pair of purple low-top Vans sneakers. A similar pair on the Vans website retails for $75. This thrifted pair was only $16 and in good condition! In addition to their low prices, this store also features a selection of items on extra clearance.
Finding clothes, shoes, and accessories from thrift stores formulates a unique style. Downtown Olympia's Psychic Sister features many interesting items, ranging from their signature zodiac-inspired tees and sweatshirts to leather jackets. I found a lovely floral-print dress for $15, as well as a vintage sparkly one for $40, which would be great for a formal event.
For my final stop, I hit up Value Village, a chain store that is similar to Goodwill. I was accompanied by Valentina Reetz, another local teen, who helped me to find clothing that would be fun for back to school. I found a shiny pink skirt for $10 that is unique, but will still work well with pieces I already own, like a plain white t-shirt. I also purchased four t-shirts, all of them under $5, including one with the tags still on. Valentina purchased a pair of jeans, a tank top, and three bags, all for under $30. While finding jeans at a thrift store does take a bit more hunting than shopping at a mall department store, the price point can't be beat.
Value Village also had several styles of bags that would work for school, from a shiny blue tote bag to more traditional backpacks, all of which were under $8. I also found a "Plants vs. Zombies" videogame themed laptop case. Additionally, Value Village has great deals on shoes, many less than half the price of a new pair.
Besides thrifting, another great way to update an item of clothing for this upcoming school year is customizing it with patches and pins. Psychic Sister has a varied selection of interesting patches that can give existing clothing new life for only a few dollars. Craft stores like Michaels sell solid colored t-shirts for $5 or less that are easily modified by cutting, adding patches, and placing pins. For this school year, I plan to buy more patches and pins for my denim jacket, jeans, and plain shirts I already own.
Haircuts are often an important part of getting ready for the first day of school. However, haircuts (especially since teens are usually charged an adult price) can be expensive. For teens that would like a barbershop experience, the Tai Barber offers haircuts for only $8. If you have a little more time and don't mind having a different hairstylist every time you visit, try the cosmetology students at the Fosbre Academy Salon. Since the stylists are
students, the price for haircutting, dying, or styling is lower than at traditional salons. A regular haircut at the Fosbre Academy is $20 and an all-over hair dye is $30. If you are looking to create a long-standing relationship with a hairdresser or have hair that you feel would need someone with more expertise, Jason Nettlekiss at Jamie Lee and Co., in downtown Olympia has curly hair experience and charges $30 for teen haircuts.
As far as school supplies, the Dollar Tree is a great place to find flash cards, pens, pencils, paper, and even poster board for going back to class. Office Depot/Office Max also have a variety of school supplies and several sales leading up to the start of school.
Having the necessary items for going back to school helps teens feel ready to tackle a new year. Luckily, there are local places to obtain these items without breaking the bank. Thrifting, at both small local stores and bigger chains, is a great way to find cheap clothes, shoes, accessories, and bags. You'll also support the "reduce, reuse, recycle" movement. The added benefit of buying thrifted clothing is that it's better for the both environment and labor workers. Shopping at stores like Dumpster Values or getting your hair cut at Jamie Lee and Co. are great ways to support local businesses while getting ready for the upcoming year.
Happy back to school shopping!