You don't have to drive too far to get a taste of Hollywood. If the idea of the 20-hour drive down to Southern California sounds nightmarish, you can opt for one of the following destinations that all have Hollywood connections – from hit TV shows to blockbuster movies – and all are within a four hour drive of Thurston County.

There are actually dozens of projects that have used parts of western Washington and the Pacific Northwest over the decades for movie making. The following locations are a sampling from recent and classic films and TV shows.
Tenino
This is the nearest film location on our list. Located in Thurston County, it's the shortest drive for those looking for a taste of Hollywood. A new indy film, The Mountain, was just recently shot down the middle of the main street in Tenino. The film garnered local media attention when Jeff Goldblum was in town for the film's shooting.
While there isn't any tourist activities yet, the main street is a fun place to explore and you can tell your friends you walked where Goldblum did, which is pretty fun. This is not the only film to have been shot in the picturesque town!
Forks
While the mega popular movies where not filmed in Forks, the town did not waste time capitalizing on the fame the Twilight series afforded them. While it's been six years since the last movie came out, Forks still has plenty for the Twihards to do and see. You can get a Twilight map of Forks from the Chamber of Commerce, which includes points of interest. Photo ops include a replica of Bella's truck. And don't forget to stop by the Forever Twilight in Forks Collection. Located at 11 N. Forks Avenue, it's the largest collection of Twilight Saga costumes and props that were actually used in the films. It's open year-round and admission is free, though donations are gladly accepted. If you want a true experience, plan on attending the Forever Twilight Festival that happens each September.
Kalama
Want more Twilight? Kalama High School, just south of Thurston County, was used as Forks High School in the film. It's a quick stop, but a great day journey for those bored Twilight fans.
Saint Helens, Oregon
After Kalama, why not head just a bit more south and see Bella's house in Saint Helens? It looks exactly the same. You can get out and take pictures from the sidewalk – just don't bother the residents.
Vancouver, Washington
Roughly two hours from Thurston County, Vancouver, and Clark County as a whole, have many film locations to explore. A-list actors such as Harrison Ford and Brendan Fraser (Extraordinary Measures) and Reese Witherspoon (Wild) have filmed in Vancouver over the years. Check out Paul's Restaurant, which was used in Wild. Ford fans will be giddy to visit Big Al's and Vancouver City Hall, where Ford himself shot on location for scenes of Extraordinary Measures. For more information on the Hollywood sites to see in Clark County, check out this article from our sister site, ClarkCountyTalk.com.
Astoria, Oregon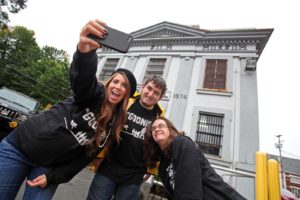 If you want a bit longer road trip, head to Astoria, Oregon. About two-and-a-half hours south of Thurston County, it's the location for the classic film The Goonies. Start at the Oregon Film Museum located at 732 Duane St., Astoria. Each year on June 7 is Goonies Day in Astoria, where die-hard fans come from all over to celebrate the film. If you visit on any other day, don't worry, there are plenty of film locations to check out and a gift shop at the Visitor Center located at 111 W. Marine Drive. From there, you can drive another half hour to haystack rock, an iconic Oregon landmark that was also used in the film.
Richmond (Steveston neighborhood), British Columbia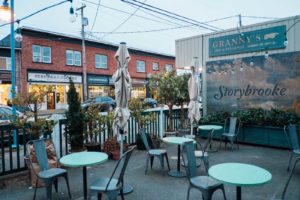 Grab your passports or enhanced driver's license and hit the road for beautiful British Columbia. Depending greatly on traffic, this location is our furthest drive, at a bit over four hours, but it is well worth it if you are a fan of Once Upon A Time. The hit show finished its seventh and final season this year, but you can go relive all your favorite moments by visiting the little town they used as Storybrooke. You can pick up licensed souvenirs, dine in the diner used as Granny's and walk down that famous main street where so many battles were fought. You can even warm up with a Dark Swan Latte at Village Books. Your first stop should be the Tourism Richmond Visitor Centre on Moncton Street where you can pick up a Once Upon A Time walking map.
Seattle
Who doesn't like a day trip to Seattle? If you do go, stop by the Fremont Troll, a replica of which was used in Once Upon A Time, season seven. Looking for a fun place to eat? How about the top of the Space Needle, which was used at Dr. Evil's lair in Austin Powers: the Spy Who Shagged Me and of course, was prominently featured in Sleepless in Seattle. Honestly, there are too many films to list with connections to Seattle, so it's a great place to go if you are looking for that Hollywood connection close to Thurston County.