Submitted Capitol Land Trust
The Capitol Land Trust Board of Directors announced today the outcome of a nation-wide search for a new Executive Director for the land trust, with the selection of David A. Winter. David is returning to his hometown of Olympia, after living in Colorado and Seattle.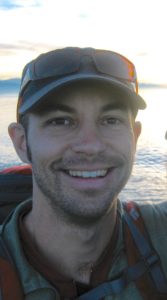 "We're very pleased to welcome David to Capitol Land Trust," said CLT Board President Craig Partridge. "David brings a tremendous set of skills and knowledge, which will allow us to deepen our engagement with our communities to conserve lands and provide increased opportunities for nearby outdoor experiences and learning."
Most recently, David was Puget Sound Outdoor Programs & Outreach Manager for Seattle-based REI (Recreation Equipment, Inc). His work helped build organizational visibility, increased fundraising activities, and developed partnerships with staff, volunteers, businesses, nonprofit organizations, and government agencies to advance land conservation goals. Previously, David was Strategic Outreach Manager and Strategic Partnership and Development Manager for Leave No Trace Center for Outdoor Ethics, a national organization headquartered in Boulder, Colorado.
Born and raised in Olympia, David's childhood was filled with outdoor experiences. He majored in outdoor recreation at Western Washington University, and built his career focused on conserving outdoor places—to pave the way for future generations to share those same experiences.
David comes to Capitol Land Trust as the organization increases public access and educational opportunities on selected CLT conserved lands. His role as Executive Director will be to oversee all operations of the organization, supervise a diverse professional staff and many volunteers, and achieve the strategic goals of the organization through developing partnerships and building community trust.
About Capitol Land Trust
The mission of Capitol Land Trust is to further collaborative and strategic conservation of southwest Washington's essential natural areas and working lands. CLT is accredited by the national Land Trust Alliance. Our operating area is Thurston, Mason, Grays Harbor, and Lewis Counties.