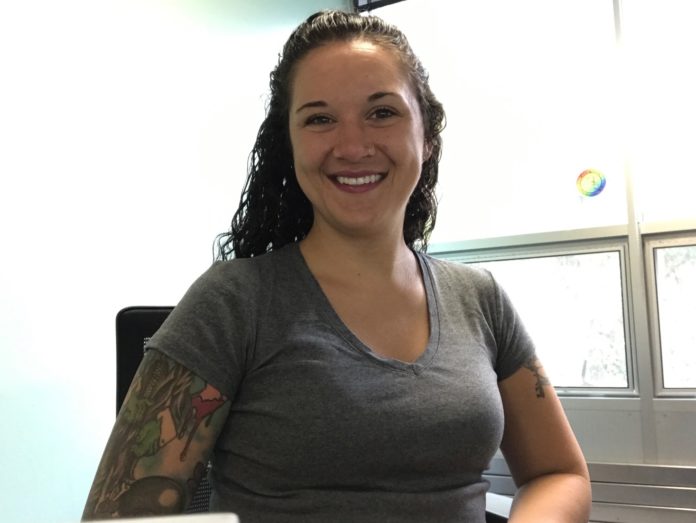 Submitted by The Evergreen State College
On Monday, July 30, 29-year-old Heather Zabrowski was running a lunch-time errand, taking a break from her work helping students and faculty at The Evergreen State College. Driving along Cooper Point Road, she wasn't prepared for what she saw next. The car in front of her began weaving erratically, swerved off the road, and careened down an embankment.
She was prepared to act, however. Zabrowski turned her car around, dialed 911, and headed toward the scene. As she approached, she saw smoke.
"I just knew that person needed to be out of that car," she recalled. Acting quickly, she unbuckled the 67-year-old man, who was suffering from a diabetic episode. By that time, flames had erupted in the rear of the vehicle. She, and others who had gathered, pulled the man up the embankment to safety.
"I'm sore today," she admitted, back to work on July 31. She was tired, too. She had spent the evening responding to KING 5, KIRO, and KOMO reporters, patiently recounting the unnerving event.
"Evergreen employees are deeply connected to our community, and Heather's selfless actions are a testament to that commitment," said Evergreen President George Bridges. "We're in awe of her quick thinking and grateful that she's back to work safe and sound."
Just a few months ago, Zabrowski took a free employee CPR and first-aid training certification program at Evergreen. While the training did give her more confidence, she remembered one piece of information in particular.
"I remember the instructor saying, 'In an emergency, everyone else will watch and expect someone else to do something.'"
Zabrowski would be the one to do something this time, and the victim's family is immensely grateful.
"His son found me on Facebook and reached out to say thank you and to let me know his dad was home and recovering well," she said. "I slept better that night knowing he was Okay."
The following day, when she returned home from work, there was a letter waiting for Zabrowski.
"The gentleman wrote to give thanks, though he said there was no way to really thank me, he at least wanted to put it down onto paper," she said. "When I called to thank him for the letter, I told him more about how it had happened and how I wasn't strong enough. He told me that 'Strength isn't always about muscles, it's also between the ears.'"
The Thurston County Sherriff's office also recognized her bravery in a social media announcement of the incident, "Without her heroic effort, the 67-year-old male could have been seriously injured … She found her hero within. Well done!"
Before becoming an employee of the college in April, Zabrowski was a student worker, transferring in after completing her Associate's Degree at South Puget Sound Community College. She plans to resume her studies in humanities and social sciences at Evergreen.