Sleep apnea and other sleep disorders are an all too present reality prevalent in adults and even children across the globe. However, once sufferers recognize the symptoms that they're experiencing, taking action to regain their health is as easy as connecting with Innovative Sleep Centers.
Thurston County residents have been solving their problems of an inadequate good night's sleep at the Tumwater Innovative Sleep Centers. The facility can be the perfect first step in treating sleep apnea and other overwhelming sleep conditions. An ideal initial step for those curious about what their symptoms might mean is as simple as taking a free screening questionnaire to determine whether or not you or someone you know has sleep apnea.  After the initial online screening, a visit to Innovative Sleep Centers poses as the next stepping stone on the journey to healthy, restorative sleep.
Staff members at Innovative Sleep Centers constantly hear from their patients how much treating their sleep disorder has impacted their lives for the better. From the patient care coordinators to the night technicians to the medical director, the testimonials consistently come in from satisfied patients who've regained their lives after treatment. Between the eight  Innovative Sleep Centers across the Pacific Northwest, patients are excited and hopeful about their health because they finally decided to treat their sleep disorders.
"Kind and friendly and I got the perfect equipment," expresses a patient from Aberdeen. "I'm so thankful for this place.  Best sleep I've ever had and I feel so much healthier now."
Even children can notice changes in their parent's mood after they finally are able to feel well-rested again. "Dad is not grumpy anymore," exclaims a nine year-old son of patient from Redding, California.
"Since I started using this machine," explains a Chico, California patient, "I no longer need to take blood pressure medication."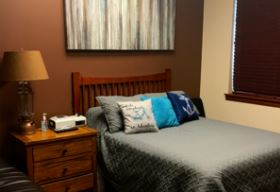 "Thank you for giving me my life back," expresses a patient from Chehalis. There are many more testimonials featured on the newly redesigned website confirming the fact that sleep disorder treatment doesn't have to be more complicated than it needs to be. Patients can also read about services offered, what to expect once the journey begins and much more all from home on the website.
Staff members at the facility are dedicated individuals who have witnessed firsthand just how intimidating a sleep disorder can be. That's why they're here to help and reassure patients that there are treatments that really do work and can improve their lives and the lives of everyone around them.
If you or someone you know has the symptoms of a sleep disorder but struggles with determining on or sticking with a treatment therapy, take a leap of faith and meet with a sleep specialist who can uncover the issue and prescribe the perfect treatment.
Innovative Sleep Centers of Tumwater is open 8:00 a.m. to 5:00 p.m. Monday – Friday and conducts sleep studies seven days a week for your convenience.  They are located at 260 Lee Street SW in Tumwater. Give them a call today and begin taking the steps towards a healthier life.
Sponsored