Olympia High School basketball coach John Kiley was very pleased with how his players performed at the two summer tournaments they competed in during their recent trip to Louisiana. However, he was even more ecstatic with what his squad did when they were off the court.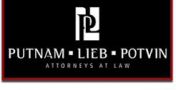 The Bears, led by seniors Andrew Boyd, Andrew Lindsay, Dylan Sawyer and Drew Thompson, opened up their summer vacation with an 11-day trip to New Orleans.
It wasn't all about basketball.
Sure, a pair of tournaments bookended the trip, but during the five days in between not a basketball was found as the players participated in Shirts Across America, a non-profit charity created by high school and college students from Seattle with the mission of helping families effected by 2005's Hurricane Katrina.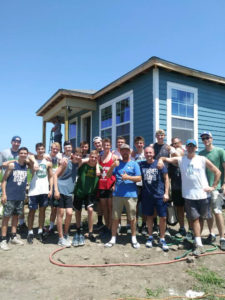 They achieved this through volunteer work. That's where the Olympia basketball team came in as the players spent four days helping build and paint a house, while on the fifth day they helped paint and set up a local community-based athletic complex for children.
"It was one of those things were the kids were giving up the first week of summer," Kiley said. "My hope was we'd play really good basketball and in between we'd serve and make a difference."
The Bears accomplished both things during their stay.
It marked the third time a Kiley-coached basketball team volunteered for Shirts Across America. The other two were AAU teams. This was his first Bears team to partake – one of a several firsts during the experience.
"As it turned out, the owner of the home, for the first time on any of these three trips, was working alongside the team," Kiley said. "You could tell how appreciative she was. It was a mother and four kids. They had been displaced since Katrina. It had been a decade-plus for them. This helped them move into an area that has instant support."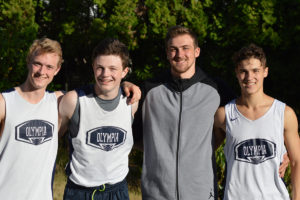 Prior to helping out on the house, the Bears went a solid 3-1 during the opening tournament on the trip before going to work at the house site in temperatures that were frequently in the mid-90s with a heat index hovering around 110.
"To be honest, a lot of us were not looking forward to the work aspect of it when we first started," Thompson said. "It was super hot, but when we actually started working with everyone and we met the people who we were building the houses for it inspired all of us to work hard. It ended being just awesome."
"If you bring joy into any activity, especially when you are doing it with guys you like, it can be fun," Kiley said. "They didn't complain. All week long, their attitudes and their work were great. They were willing to commit to something bigger than them. As their coach, I couldn't be more proud of how thorough they worked and how consistent they were."
After volunteering with Shirts Across America, the Bears closed out their New Orleans trip with a second tournament. Despite a little exhaustion after dedicating the previous five days to working on houses, they went a perfect 4-0 in tournament play.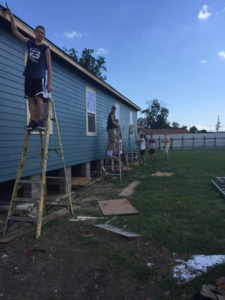 "I think when we got to the last tournament at the end we were all pretty tired," Sawyer said, "but we're grateful we got the chance to do that. It was kind of a once-in-a-lifetime thing."
Olympia finished its stay with a strong 7-1 record in tournament games, but more importantly, according to Kiley, gained some valuable life experience.
"I thought our basketball was better (after we volunteered) and it was enhanced through the camaraderie," Kiley said. "I think they saw that we have a lot, and if they can make a small, small impact on one family getting back into a home, they should do it. I think they felt it in their hearts. I definitely saw that in their work."
And while the trip is now over, Kiley believes the understanding his players gained in New Orleans will be applied at home.
"On the plane ride back home," Kiley said, "the team was talking about how you don't have to go on a four-hour plane ride to help someone out. There are problems here and now they are challenging each other to bring it home. I am excited to collaborate and help them on how they can make a difference in their own community. It will start at Olympia High School and then build outwards."