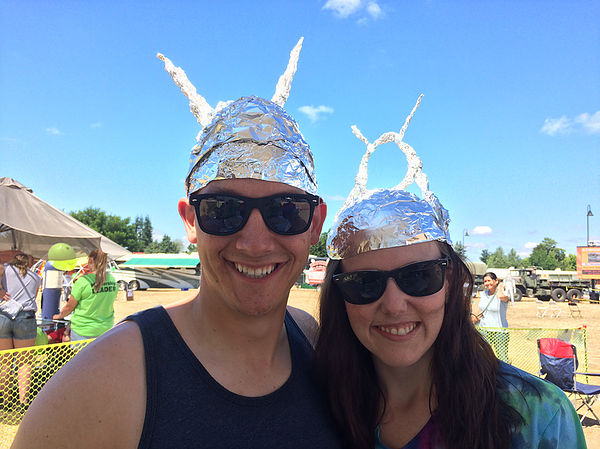 The dusty Nevada road leading to Homey Airport near Groom Lake is a long way from Thurston County, 988 miles to be exact. But the lake is a dry salt flat and few would risk landing in that airfield. This is Area 51, considered by many to be the most mysterious military base in the world. Though we may not have the Extraterrestrial Highway here in Thurston County, we do have the Yelm Highway and July 27 – 29 it will be leading all sentient beings to the second annual Yelm UFO Festival.

This free festival features a food court, musical performances, strolling magicians, an alien parade and lots of other activities. Some activities, like the kids' inflatables, The Reptile Man, Dunk 'n Alien tank, and the scavenger maze, require a small payment. You can also buy a daylong bracelet that covers all the festival activities.
But Seriously, Folks
Billed as a festival for enthusiasts and skeptics alike, the UFO Festival is a two-part event: a family festival with food, music and vendors and within the festival, in a large, air-conditioned tent, is the Speaker Symposium for those who are interested in extraterrestrial theories. The speaker symposium covers many different topics and tickets are sold separately for each speaker. The filmmakers from The Incident on Maury Island and eight other UFO speakers will be there. Check the website for prices and details.
Entertainment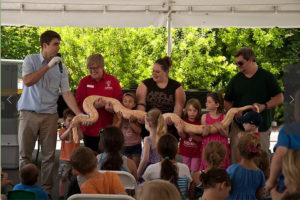 Bring a chair or a blanket and enjoy over 15 live music and special performances, including comedy and poetry, all weekend. With everything from The Urban Shaman, funky electronica featuring a digeridoo, to Larry G Jones, a family-friendly comic, celebrity impersonator and singer, there is something for everyone. You can visit the UFO Fest entertainment webpage for a schedule of the performers.
Beer Garden
Last year the organizers worked with Fish Brewing Company to come up with a special beer for the festival, Alien Pale Ale, and they are bringing it back this year. Be aware that this is the only place in the known galaxy that you are able to purchase Alien Pale Ale.
Out of this World
Weather permitting, there will be hot air balloon rides available during the festival. Tickets are $35 and you will want to book this ahead of time through the website.
What to Bring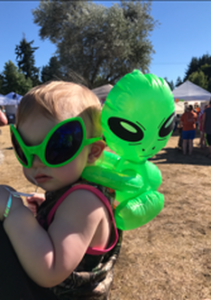 The festival is held in a large open field so you will need to bring a blanket or chairs to sit on. Sunscreen and umbrellas are also a good idea.
How to Get There
The entire event – UFO Festival and Cosmic Speaker Symposium take place in downtown Yelm at Prairie Park Lane SE across from the library and here are directions to help you get to there.
Yelm UFO Festival and Speaker Symposium
July 27 – 29, 2018
Prairie Park Lane SE, Yelm, WA
All Species Welcome