Muffy. Hershey. The names sound cuddly and yummy. Meet two of Providence St. Peter Hospital's many animal companions that regularly bring joy, love, and comfort to patients, staff, and visitors.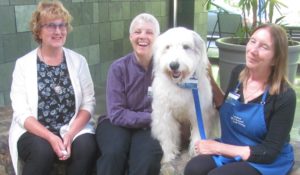 "I really do think I have the best job in the universe," says Danni Sabia, program manager for Providence Animal-Assisted Activities & Therapy (PAAA/T). "It's a great program." PAAA/T volunteers visit patients with their own companion animal two times a month.
"Our regular visits are scheduled in the Pediatric Unit and the Psychiatric Unit," continues Danni, "but if anybody ends up in the hospital on any unit and would like to request a visit with a therapy dog or cat, they just have to get approval from their doctor."
On Wednesday, July 18, from 7:00 to 8:30 p.m., animal lovers can learn about the qualities, skills and behaviors needed to be a successful hospital visiting team. This information session explains specific tasks potential teams can work on to prepare prior to the next training program in January-February 2019.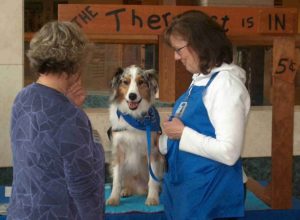 The training is rigorous but deeply fulfilling according to several volunteers. The program is expanding and Danni wants to increase the number of teams that successfully complete the training by helping them be better prepared for it.
"We focus on quality and safety with 'safety' being the focus of everything that we do," says Danni. "Our training is very expensive, but free to volunteer teams. We train the handlers and they train their dogs or cats."
Join This Amazing Legacy
"The program started in 1989 when it was absolutely unheard of to bring animals into a hospital," says Danni.
"There were fewer than 20 organized programs in the entire U.S.," adds Founder Ann Howie. "It was, and remains, in the top 10 due to its high-quality training and screening of potential volunteers (handlers and animals).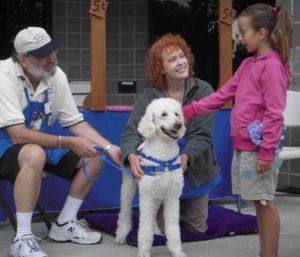 "'I want to give back' is one of the most-often-heard comments from volunteers. Through their animal partner, they are able to lighten the emotional load of patients, visitors, and staff in the hospital. Even with a brief encounter of only a few seconds, people who otherwise are burdened with fears about their loved one's health issues can smile and feel the softness of a well-behaved animal who enjoys being with and being touched by strangers."
Unleash the Healing Power of the Human-Animal Bond
Over the past 19 years, Susan Cook has volunteered with three companion animal partners. She recalls a special visit.
"One woman was not responsive so Winnie nudged her hands with her nose," says Susan. Winnie was one of Susan's canine partners. "Still no response. I asked her if she'd ever had a dog. She spent the next several minutes telling us about all the dogs her family had while her four children were growing up. Her husband was in tears because she hadn't spoken a word since her stroke two years previously."
"All of the animals have to be bathed and groomed prior to visiting," explains Danni. "Many of our volunteers are young and work during the day, so we plan visits by the month."
There are currently around 15 handler-therapy animal teams in the program, along with several "unleashed partners" who went through training and didn't pass the program, or who want to help after their animal partner has passed on or is no longer able to volunteer. They often join another team on visits.
"My partner's name was Hershey," shares unleashed partner April Thompson. Hershey, a brown standard poodle, retired in 2016 at age 13. "Hershey often would chase a ball in the back hallway for stroke patients who, as part of their therapy, sometimes struggled to throw it for him.
"He would happily go and get the ball and bring it back to them, though he wouldn't chase balls for me at home. The physical therapist sometimes asked us to pay particular attention to a patient's whole left or right side, or an affected arm or hand. One time, after a few throws, Hershey carefully placed the ball in the patient's outstretched but immobile hand that we'd been told needed strengthening."
Let the Magic Happen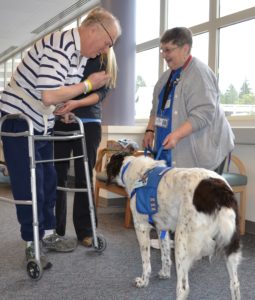 "Muffy and I work in the Psych unit where we meet folks with such courage and humanity that I never come away without being humbled," explains 7-year volunteer Lise Tabb, whose partner is Muffy the Fluffy, "and Muffy never comes away without having left her magic spell behind. To watch a dog work is to see love in its purest form – unconditional. I love every part of this program. My job is to hold the leash and let the magic happen."
Learn how to let the magic happen with your companion animal on Wednesday, July 18, from 7:00 to 8:30 p.m. at Providence St. Peter Hospital, Room 200 on the second floor.
For more information, contact Program Manager Danni Sabia: 360-493-7629, Danni.Sabia@providence.org, PAAA/T Program, 413 Lilly Road NE, Olympia, WA 98506-5166.
Sponsored