If you were out having coffee and bumped into the Conductor and Executive Director of the Olympia Symphony Orchestra, you might be in for a surprise. I was. After confusing several state workers with my eager greeting and outstretched hand I looked right past the pair bouncing in wearing shorts and tee shirts. It was 85 plus degrees out and I was decidedly overdressed.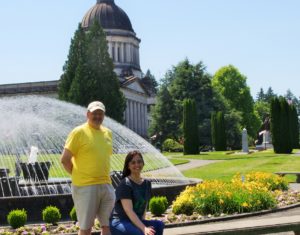 "We always have a tee shirt for the season, says Huw Edwards, Conductor and Music Director, "and we have the unveiling at the summer Concert at the Capitol. This year's will have the whole season's schedule on the back."
"I am wearing 2016," says Jennifer Hermann, Executive Director and concert pianist, "that was a big one – our 10th anniversary of the Concert at the Capitol. We called that one 'Festival on the Capitol Green'." Jennifer's pride is tangible and she smiles warmly. Jennifer is one of those people you know to be genuine as soon as you meet them.
Huw, for his part, brings instant levity to the conversation. "This looks like a big packet of mustard," he says plucking at his yellow shirt sleeve, "we have been offering them for the past decade and it's become a tradition. Players wear them, you see some in the crowd from previous years during the performance with all the different colors." Then Huw leans forward, "And as it is very warm we are not going to wear concert black," he confides in his best stage whisper.
Huw is Welsh though he has been in the states for many years. He has been Music Director with the Olympia Symphony Orchestra since 2003. Jennifer became Executive Director in 2016 and is an accomplished concert pianist. They both work closely to keep the symphony orchestra a vital part of the local community. The summer concert is one way they achieve this. What started as an annual slot at the Olympia's Music in the Park series has blossomed into the present day Concert at the Capitol.

A Gift to the Community
"This concert is our gift to the community," says Jennifer "we are a registered nonprofit charitable organization and we operate because of their support. This is a nice way for us to give a gift back to the community that faithfully supports us."
The annual free concert takes place right on the Capitol lawn Sunday, July 29 at 6:00 p.m. Many people pack a picnic dinner and spread out a blanket or bring lawn chairs, stake out sun umbrellas or find the shade of a tree. "There is no assigned seating," jokes Huw, "and plenty of room to spread out."
It is like an encore performance from the best of the previous season," explains Huw. "We always throw in some lively things. This year we will have selections from Fiddler on the Roof, and as this is a big Leonard Bernstein year (100th Birthday) we are going to do selections from West Side Story. We'll also have Slavonic Dances by Dvorak, Mozart's Overture to "Don Giovanni," along with a few others. We always start with a lesser-known Sousa march – and this year it is Sousa's "Our Flirtations March," one of the rare ones, and we always finish with "Stars and Stripes Forever," the most well-known."
"And this year we will have Boy Scout Troop and Cub Scout Pack #9250 from Tumwater presenting the colors," adds Jennifer.
Free – Families – Community
Commencement Bank, formerly Thurston First, is instrumental in helping make the Concert at the Capitol possible. They have been the primary sponsor since 2014 and are committed to building the community by bringing people together and into the outdoors to experience art together.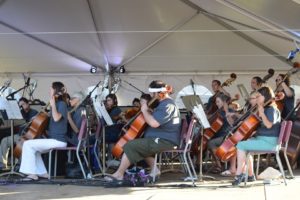 Pope, Houser and Barnes is another supporting sponsor for the event, contributing to make the concert available to the community. And if you have been to the Concert at the Capitol before you may have seen Capital Heating and Cooling there handing out bottles of water at their antique truck. This year they will be at the concert collecting donations for Homeless Backpacks, a local non-profit that provides food and personal items for school children experiencing homelessness. Kids are a big part of the Concert at the Capitol. "We get lots of kids dancing," says Huw, "and child ballerinas by the stage. One year we had people set up a volleyball net," Huw laughs, "which is hard to do at The Washington Center."
"This summer concert is also about reducing barriers for people," explains Jennifer. "Some people don't feel comfortable yet in the concert hall. I think this summer concert makes it easy and fun. You can stay for part of it, or all of it – no need to stay for it all. We try to have that same come-as-you-are attitude in the concert hall too," she adds, "but some people don't know that about us."
Trickle Down Music Education
Capital Heating and Cooling has supported the Olympia Symphony Orchestra's Concert at the Capitol since 2015. "For Bill, Chuck, and me it comes down to our family being in this community for three generations," says Dean Schmidtke, general manager and co-owner. "The community has been good to us. Not only do we love giving back to the community, we are big believers that the arts attract talent and make our quality of life better. It's a triple win."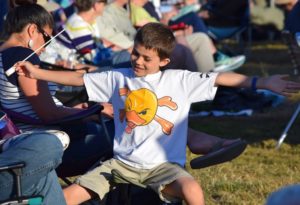 The Olympia Symphony Orchestra does create a well spring of opportunity for music in our lives and in our families. If your child studies an instrument at school, their teacher may very well be one of the performers. "Many of our musicians are local educators," says Jennifer. "At the summer concert the young students get to come up close and see their teacher performing and being conducted. Seeing that continuation of learning is so powerful."
Yes, even the conductor continues learning.
Last year's 65th anniversary was a stretch for the Olympia Symphony Orchestra. "We really tried to create a big pivotal landmark," says Huw, "that made programming for this summer concert hard! The year after a big year is hard. So we want to make this fun, lots of smaller pieces. Last season some symphonies were up to an hour long, so next year there are great works but they are shorter. Last season many concerts consisted of only works, but next season we have a chance to do four or five per performance."
"Huw did these monumental masterworks that really punctuated last year," says Jennifer. "Next season is titled Highways & Byways and features "well-travelled roads and lesser-known paths." As it's our 66th Season, we will be performing Route 66 on the season-opening concert. Last season was about the landmarks and this year, the roads that get us there. The pieces will truly capture the imagination."
You can hear selections from last season's performances on the last Sunday in July. Bring your lawn chair, a picnic dinner, and your imagination to the Capitol lawn July 29 at 6:00 p.m. for a night to remember – Concert at the Capitol.
Sponsored