Some people make the world a safer place…every single day.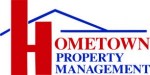 Among those is Lacey District 3 Fire Chief Steve Brooks who is making sure that Thurston County citizens are receiving top-quality, immediate care so they are safe and sound.
"We typically answer 40 911 calls in a 24-hour shift," states Brooks.
"County-wide – and our district is part of that – we have some of the highest statistics nationwide, really worldwide, on survivability," says Brooks. "If you're going to have a medical event, such as a heart attack, this has been shown to be one of the safest communities to have that. The survivability of those types of critical events has more than doubled since 2009. You have a greater than 50 percent chance of survival in this community. Nationwide statistics are generally less than half of that."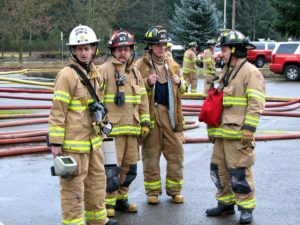 Firefighters use to spend the majority of their time putting out fires, but now the scope of their work has changed. Medical events have become more prevalent due to an increase in assisted living centers and an aging population.
"Fires of all types, whether it's vehicle or brush fires or something else, account for around 700 of our approximately 14,000 annual responses," says Brooks. "About 75 percent of all our calls have an emergency medical component so that's why all our firefighters are either Emergency Medical Technicians (EMTs) or paramedics."
Coordinated, Borderless, Seamless, Efficient and Effective
Chief Brooks is planning for and managing rapid levels of population growth within Fire District 3 and as part of the collaborative picture. As President of the Thurston County Fire Chiefs Association, Brooks has helped develop a network among various emergency groups, which includes all fire agencies in the county and Thurston County Medic One. He's also on the Operations Committee for Medic One.
"We're the most rapidly growing part of the county," says Brooks. "We've more than doubled since 2005. We grew 8 percent in 2017."
"During my time here, I've seen progressively increasing coordination among fire departments – working so seamlessly with all our neighboring agencies," says Brooks. "It's becoming a borderless approach to responding – getting the closest unit to assist."
Brooks is also trying to stay ahead of the curve in planning how to manage increased responses amid healthcare changes. He added four members to the Sheriff's dive and "swift water" teams and has increased the District's "still water" rescue capabilities on area lakes and the Sound. Brooks is also proud of the number of female firefighters serving the district, which is about three times the national average.
Education and Collaboration
"There's some element of training scheduled every day in Lacey ," explains Brooks. "We're also part of a training cooperative with Olympia and Tumwater – with a shared training facility."
"We do a lot of education and outreach (in Lacey)," says Brooks. "For example, we see every kindergarten, first, and second grader every year in all of our elementary public and private schools. We also have programs for our seniors and others."
"A firefighter needs a desire to serve their community – to be compassionate," says Brooks.
Giving and Serving
Brooks has served the various communities he's lived in since he was a little boy growing up in Tennessee.
"My dad was a firefighter," smiles Brooks. "Some of my earliest memories are when I was six or seven years old on my summer breaks. I had my own set of coveralls next to the bed. I was awakened by my mother when there was some event. I would put on my little coveralls then jump in and get to ride along with dad. So that's what sparked my interest."
After 11 years as a city firefighter in Oak Ridge, Tennesee, Brooks and wife Lee moved to Lacey in 2005 where he became a division chief and medical services officer, overseeing EMTs and paramedics. Brooks became fire chief in 2012. Along the way, Brooks and Lee have fostered 17 children, are active in their church and now Brooks serves on a nonprofit board for a youth agency: TOGETHER!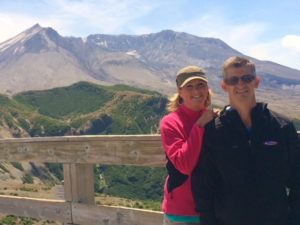 Last year Brooks was awarded the 2017 Distinguished Leader Award by the Thurston County Chamber of Commerce. The award recognizes leaders who demonstrate outstanding initiative, inspire others and make a significant impact in our community and beyond.
"Being a firefighter is more a lifestyle than just a career field," says Brooks. "I certainly want to recognize my wife for her patience."
When Brooks isn't saving people on the job or in the community, he enjoys going camping, hiking or riding motorcycles.
Thurston County can sleep well at night knowing that Chief Brooks, Lacey Fire District 3 and the greater networked Thurston County area is watching over us, keeping us safe and sound.