Do you remember that glorious feeling on the last of school? Those feelings of joy, excitement, freedom and eager anticipation? Now imagine how that last day must feel when the only meals you are guaranteed are at school. When the only consistent, safe parts of your day are those hours in the classroom. What questions might be going through your head? How would you feel then?
TOGETHER! coordinates a  summer community outreach program in partnership with Tumwater School District. Their summer resource centers are an extension of the work that they do during the school year. Their goal? To consistently connect with kids and families in need.
"Needs don't stop just because it's summer," says Ari Rogers, the Community Schools Administrative Manager. This is her first year running TOGETHER!'s Tumwater program and she couldn't be more excited. She looks forward to helping families connect with activities and resources that they otherwise might not know are available to them.
TOGETHER! believes that when youth are supported, healthy, safe, and valued, everyone benefits. They want to be there for children and families so that they know they are not alone. The workers and volunteers seek to be a consistent caring person in the lives of each of the kids that come their way.
TOGETHER! has two community resource centers running from June 25 to August 24. At their resource centers, they offer food and clothing as well as provide connections with healthcare, housing, employment, transportation, and more.
Many of the kids who come to the resource centers are self-referred, meaning they are there without a parent, hoping for help and support. A great thing about TOGETHER! is that there is no need to present paperwork to access their assistance and resources. If a child or family shows up and asks for help, help will be given.
Their group offers free lunches for children and teens. They can also connect families with food resources outside of their facilities, such as Kids Meals on Wheels and Thurston County Food Bank Sites. Not only will these kids receive meals while they are at TOGETHER!, they can then bring food to their families for the weekend.
Another fantastic resource is TOGETHER!'s connection with several local camps and activities. Through these, kids have something productive and safe to do during the summer months. Camps like Boys & Girls Club of Thurston County, Camp Hope, GRuB Summer Camps, South Sound YMCA and YWCA of Olympia all offer scholarships and assistance to kids in need. Crosby House and Timberland Regional Library both offer daytime activities. And, of course, Thurston County has a variety of events and activities for the whole family to enjoy – many low cost or free!
A big part of what TOGETHER! hopes to do is connect families with resources that will help them not just during the summer, but for the whole school year. Navigating social services can be a daunting task. TOGETHER! is there to walk alongside families and provide them with the knowledge and materials to access everything that is available to them. "We want families to connect and utilize resources," says Adrienne Beverly, the community schools AmeriCorps VISTA.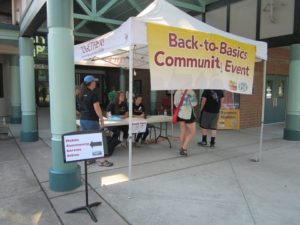 TOGETHER! also sponsors Back To Basics, which are no cost back to school events. On August 9 at Tumwater Middle School from 5:00 p.m. – 8:00 p.m., they will have school sports physicals for students entering grades 7 – 12. While this doesn't replace the recommended annual well-child checkup, they will offer no cost school sports physicals, health insurance navigation, primary care resources, dental resources, back to school haircuts, and information about after school programs.
August 22 at Peter G. Schmidt from 4:00 p.m. – 8:00 p.m. they will provide no cost immunizations required for school enrollment plus the resources and connections mentioned above.
They don't do all this alone. TOGETHER! has many community partners with a passion to support children and families in need. This helps provides kids with coats, backpacks, and glasses to set them up for a successful and stellar school year.
So how does someone who shares this passion help? What does TOGETHER! need from the Thurston County community?
"Laundry detergent!" Ari laughs, though she is totally serious. A big need of TOGETHER! is the supplies they like to give to families. They are always willing to take donations of clothing and food. But their biggest needs right now are underwear, socks, deodorant and, yes, laundry detergent. Donations can be dropped off at one of their community resource centers or at their main office.
"We want to help the whole child," Ari says with a smile. "We want to be a consistent, constant face that lets them know they are seen, cared about and loved." And, really, that's what TOGETHER!  is all about.
Community Resource Center – Tumwater High School
700 Israel Rd. SW
Tumwater, WA 98501
Monday, Tuesday, Thursday, Friday: 9:00 a.m. – 1:00 p.m.
Free lunch for kids and teens: 10:30 a.m. – 12:30 p.m.
Community Resource Center – Peter G. Schmidt Elementary
237 Dennis St. SE
Tumwater, WA 87401
Monday – Friday: 9:00 a.m. – 1:00 p.m.
Free lunch for kids and teens: 11:40 a.m. – 12:10 p.m.
TOGETHER!
1520 Irving St. SW Ste. A
Tumwater, WA 98512
360-493-2230
Sponsored