New and delicious flavors waft out of the kitchen. Guests gather at the bar to enjoy drink specials and delicious snacks from the menu for the recent return of hoppy hour, the Iron Rabbit Restaurant and Bar's spin on happy hour. Just in time for the summer heat, guests 21-years-old and older are invited to step into the cool bar area to meet friends or enjoy an afternoon date from 3:00 p.m. to 5:30 p.m. every day.
The Iron Rabbit's Hoppy Hour drink specials are sure to quench your thirst with a dollar off all 20-ounce beers, a dollar off wine by the glass, and a dollar off well drinks.  They will also be offering rotating cocktail specials. Currently, they are featuring Italian lemonades with a Montenegro amaro float, and the spicy sour. The lemonade is fresh-squeezed in-house, mixed with Capital vodka, which is distilled locally in Seattle, and topped with a float of Montenegro amaro. Also, they offer the spicy sour, which blends their own jalapeno infused vodka with house-made sour mix, garnished with an amaretto cherry and a shishito pepper.
What is Hoppy Hour without delicious food? The Iron Rabbit offers a few special snack options exclusive to Hoppy Hour. Whether you are feeling a little snackish with your pals, or are up for something a bit more substantial, the hoppy bites are sure to please.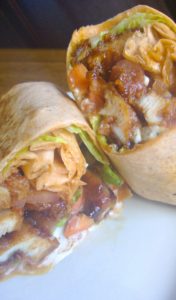 For a lighter snack, Ami Aika, operations manager for the Iron Rabbit, suggests you try their mixed nuts. They roast them with butter, brown sugar and spices resulting in a sweet and spicy candied snack. This yummy treat is only available at hoppy hour.
The buffalo chicken wrap is a more filling option that is made with chicken tenders tossed in a house-made fiery buffalo sauce, romaine lettuce, and ripe tomatoes, and topped with from-scratch blue cheese dressing wrapped up in a tomato basil herb wrap. The Iron Rabbit cooks bread the cage-free chicken in-house. Inspired dining at its best, the gingery, sweet flavor of the fiery sauce makes this snack a popular one.
Another hoppy hour offering is the patatas bravas. The cooks take the same home fries you may be familiar with from their brunch menu, and changes them up by tossing them with garlic, pecorino romano cheese, and their house romesco sauce. The Argentinean inspired sauce mixes delicious flavors of almond, roasted garlic, roasted red pepper and tomato.  Patrons can enjoy them as is, or add an egg or bacon if they like.
Two other hoppy hour offerings are the spinach bacon hoppy salad and the hoppy blistered shishitos peppers. The spinach bacon hoppy salad tops fresh spinach with house balsamic dressing, pecorino romano cheese, roasted red peppers and crispy, floured and fried onion strings.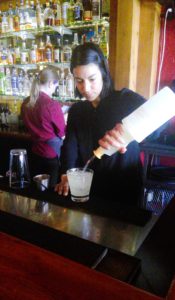 Patrons looking for a fun and surprising kick should check out the hoppy blistered shishitos. This delicious and healthy snack features Japanese shishito sweet chili peppers. One out of every 10 peppers offers a super spicy kick. "They just might knock your socks off," Ami says. The cooks pan sear the peppers, toss them with sea salt and serves them with cilantro-lime aioli.
"Guests should keep an eye out for new offerings," Ami says, "as we expect the menu to feature rotating specials on a seasonal basis."
The return of hoppy hour isn't the only news from the Iron Rabbit. You needn't worry if you happened to miss Father's Day. The Iron Rabbit celebrates the entire month with a fun $30 beer/free steak dinner special. Choose any of their 16-ounce beers on tap for $30, and receive a free wagyu steak, topped with fresh chimichurri sauce and cherry tomatoes, served with garlic mashed potatoes and seasonal vegetables. Not just for dads, but don't they deserve it?
"We are always striving to evolve and better serve our guests. Check out all that's new at our website," she says. Also, while you are there, check out the Rabbit Rewards program.
Iron Rabbit can be found at 2103 Harrison Ave NW. Hoppy Hour is currently running every day, 3:00 p.m. to 5:30 p.m. in the bar. Stop by today.
Sponsored