The Hands On Children's Museum (HOCM) invites you and your family to attend the Fire Rescue Spectacular! event on Saturday, June 23 from 11:00 a.m. to 3:00 p.m., in partnership with the Olympia Fire Department.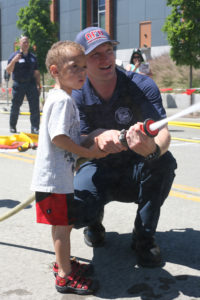 The second annual event is a favorite among young visitors and kicks-off the Summer Splash! Festival, the Museum's summer-long festival of fun sponsored by WSECU. The Festival line-up features themed adventures, live performers, unique activities, and special guests–all designed to keep children engaged and learning throughout the summer when learning loss is at its peak.
The Museum will block Jefferson Street near the Museum's entrance so that the Olympia Fire Department can stage their fleet of emergency vehicles, including the AID #1 fire engine, a safety boat, a police cruiser and a police motorcycle. Event visitors can get to know local firefighters, climb aboard giant fire trucks and other emergency vehicles, meet Sparky the costumed Fire Dog and see a vintage fire truck!
Firefighters will be on site throughout the day to answer any questions kids or parents have about fire safety and hand out complimentary mini ice cream cones at 2pm. The Junior Firefighter Challenge is sure to be a huge hit giving children the opportunity to participate in a fire rescue-themed obstacle course with a bucket brigade, a flaming house spray down and a hose rolling relay.
This is the second year Hands On is partnering with the Olympia Fire Department to bring the wildly popular Fire Rescue Spectacular! event to the public. Amy Brockman, Senior Development Manager, says last year's event was particularly memorable with kids playing in the huge water spray created from the fire engine's ladder pump, creating a "spay park" in the middle of the street.
All of the street activities are free to the public, while special fire-related activities inside the Museum are free with admission. The Museum will be open during regular business hours from 10:00 a.m. to 5:00 p.m. that day.
June 23 is also opening day of the giant Painted Sand Castle sponsored by Coldwell Banker Evergreen Olympic Realty for much of the summer. Featured in the Museum's Outdoor Discovery Center, this crowd favorite provides kids an opportunity to express their creativity by painting a larger than life sand castle inside and out.
The Fire Rescue Spectacular is just the start of the action-packed summer schedule at Hands On with activities and guests featured daily. Other highlight events include Riveropolis, a fantastical waterway exhibit offered July 19-August 17 and presented by Small to Tall Pediatric Dentistry. The master glassblowers from the Museum of Glass will be presented in the Mobile Hot Shop August 9-11 sponsored by FORMA Construction, and the adults-only Summer Splash Gala, sponsored by Olympia Federal Savings, wraps-up the summer Festival on August 24.
Other special events include a Canoe Carving Demo with Taylor Krise of the Squaxin Island Tribe, Fire Spinning sponsored by Little Creek Casino, Rock Wall climb sponsored by TwinStar Credit Union, Bridge Building on the Tinker Terrace sponsored by HDR, Meet a Mermaid, Solar Days and the chance to sit in a vintage T-28 airplane. Weekly activities include Nature Play and Mud Pie Mondays starting next week.
All proceeds from the Summer Splash! Festival, Gala and Sponsorships fund the Museum's free access programs, and new exhibits. According to Brockman, over one third of the Museum's 315,000+ annual visitors participate in sponsored field trips, parent support programs, and free admission programs.  First Friday Nights, a cornerstone of the Museum's access programs, will also take part in the Summer Splash! Festivities providing access to all families regardless of their ability to pay from 5:00 p.m. to 9:00 p.m. the first Friday of every month.
For more information about Summer Splash events, visit the Hands On Children's Museum website or call 360-956-0818×0.
Sponsored