Summertime brings out the kid in all of us. Long days, balmy nights, and festivals around every corner are a perfect break from the work—and homework—routine. But for some families, the school year provides fundamental meals and activities so crucial to growing bodies and minds. When summer hits, food and fun grow scarce.
Thanks to the City of Lacey's partnership with the North Thurston Public Schools (NTPS), local kids can take part in the free summer meal program and Playground Pals.
No Kid Hungry reports that "summer is a time of need…Research shows that family grocery costs rise more than $300 a month when school is out and school meals disappear, putting a strain on already-tight budgets…A lack of reliable nutrition during the summer months takes a major toll on children. Kids who struggle with hunger are more likely to experience 'summer slide', forgetting what they learned and starting the next school year months behind their more affluent peers."
Kathy Owen, Recreation Supervisor II for Lacey Parks and Recreation, explains that the popular lunch and Playground Pals programs began in the summer of 1994. "The City of Lacey has sponsored and run both programs every year since then," she says. "This year we are running two sites with Playground Pals and NTPS is administrating the meals."
The program's need is obvious. "In 2017 we served 12,595 lunches in 39 days at the 3 sites. This was a low year, probably reflective of the improved economy," says Owen. "I would predict serving 12,500 to 13,000 again this year, but then again, you never know." This is down from a staggering 18,810 lunches served in 2009.
Typically, Owen explains, the program provides a hot lunch between 12:00 p.m. and 12:30 p.m. and families are welcome to stay for Playground Pals. Both run for eight weeks, Monday through Friday, June 25 through August 17. The only closure is the Fourth of July. Lunches are served at Lakes, Lacey, and Lydia Hawk Elementary schools while Playground Pals are only at Lacey and Lydia Hawk. The program welcomes healthy snack donations for the afternoon.
"Not everyone stays for Playground Pals after lunch, although most do," explains Owen. "At Lydia Hawk they could have 100 kids staying for the program but probably average more like 75-80 each day. Lacey draws a smaller crowd but still has 35-50 staying for the program. The reason we only have two Playground Pals sites for 2018 instead of our standard three is that Pleasant Glade is under construction and Mt. View will have round-about construction right at the school."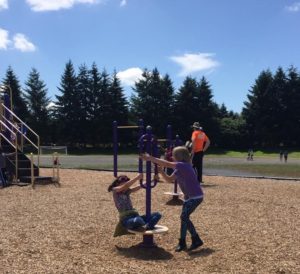 Lunches are available to all students under the age of 18 and Playground Pals is open to those ages 6- to 12-years-old. "After lunch is served, our incredible Parks and Recreation staff will be at each of the schools, offering playground supervision as well as organized activities that include: arts and crafts, games, fitness, water activities, and even a summer reading program," Owen continues. "This is a free, drop-in program. Parents/guardians must fill out an emergency information card on the first day of attendance. After that, participants are free to come and go at their leisure." Parents please note that children 6-years-old and under must be accompanied by an adult at all times.
The cost of meals that are planned, cooked, and served by NTPS staff is reimbursed by the federal USDA Child Nutrition Program. These schools can host, thanks to school funding guidelines. "The summer lunch program is an open site meaning the site qualifies, not the children," explains Owen. "It's based on if the school has 50 percent or more free and reduced-lunch recipients during the school year."
Read more about both programs on the North Thurston Public Schools Summer Information portal or the City of Lacey's Parks and Recreation Teen and Youth Programs page.
If you or someone you know needs additional food for their family, the Thurston County Food Bank's FORKids Program offers weekend food bags, birthday bags, and summer lunches. For older students, Homeless Backpacks works with elementary and high schools across the region to provide food and toiletries to kids needing a little help. Both organizations also accept donations of non-perishable food to distribute year-round.
Whether enjoying a neighborhood barbecue or throwing hotdogs on the grill, nothing says vacation like corn on the cob, watermelon, lemonade, and hamburgers. Thanks to the City of Lacey partnering with NTPS, local students can enjoy this basic part of summer for free.
If you would like to get more information about the free summer lunch program or Playground Pals, feel free to contact Kathy Owen, City of Lacey Parks & Recreation Supervisor at KOwen@ci.lacey.wa.us or 360-456-7797.
Sponsored