First-year Tumwater High School fastpitch coach Ashley Andrews asked a lot out of her lone senior this season. And Aly Carpenter more than delivered.

Carpenter was one of seven Thunderbirds selected to go to the all-2A Evergreen Conference, earning first-team honors. She was joined on the first team by teammates Emmi Clarke, Myiah Seaton, Ashley May and Jaidyn Carpenter.
Rochester had three players who were first-team recipients in seniors Bella Phelps and Hunter Hahn and junior Delaney Glazer. Black Hills placed two players on the first team with seniors Aly Gill and Chantal Won.
Senior Ashlee Vadala and sophomore Ashlyn Whalen of conference champion W.F. West were named pitching MVP and offensive MVP, respectively.
Andrews, who was an all-state player for Tumwater, received Coach of the Year honors in her first year with the T-Birds.
"Overall, my first season at Tumwater was so special and absolutely fun," said Andrews, who led the T-Birds to a 16-5 record. "Growing with this group of girls and learning about each of them as individuals and athletes was a blessing to me. Yes, we prepared each day to win ball games, but we also prepared each day to have championship mindsets and character, not only on the field, but off."
Aly Carpenter, a third baseman, hit .457 with 5 homeruns and 31 RBI as Tumwater advanced to the district tournament before seeing its season end in a 6-2 loss to eventual 2A state champion Woodland.
"Aly was the rock this team needed. It's always difficult when new coaches come in to any program as there are a lot of uncertainties, but when a team's senior leader buys into the coaches and their philosophies, the team follows – and that's exactly what happened," Andrews said. "Aly made this season about the team, about the 14 girls beside her. It was never about her and that is what is so special about Aly."
Seaton, a junior, hit a team high .479 with 3 homeruns and 20 RBI. Clarke, the only freshman on the first team, was second on the team with a .474 batting average, while sophomore May hit .417 and was tops on the squad with 8 homeruns.
Jaidyn Carpenter made the first team as a pitcher. The sophomore's season highlight came on April 24 when she handed W.F. West its first EvCo loss in five years – a span of nearly 75 games – during a 4-1 victory by the T-Birds.
Tumwater also had a pair of second-team selections in junior Katie Cunningham and sophomore Savannah Owen.
"We really talk a lot about the strength of each individual being the strength of the team, 1-15," Andrews said. "No one player is needed more than the next. We had some outstanding performances from players the outside eye would call 'supporting actors,' but for us, we knew the grit and toughness each girl on our team had and that's what made this team so special and unlike any other we faced."
Rochester received huge years from seniors Phelps and Hahn as they came within a win from advancing to the state tournament for the first time since 2000.
Phelps, who will play at New England College in New Hampshire, had a .458 batting average with 2 homeruns and 16 RBI. Hahn, who will play at Saint Martin's University, hit .424 with 13 RBI.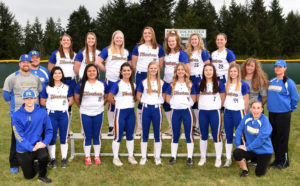 "I asked Hunter to become our leadoff batter this year, a spot in the lineup she actually dislikes, and she did a great job there," Warriors coach Dave Montgomery said. "She led the team in walks and stolen bases and was second in on base percentage, all things you need from a leadoff batter. At their positions Bella and Hunter were among the best in our league, which is extremely deep in talent."
Glazer was second in the EvCo in batting average (.556) and was the team's top pitcher, registering 80 strikeouts in 67 innings with a 2.82 ERA.
"Next year I hope she adds a little more pop to her bat, as we're losing our clean-up hitter, Bella, to graduation," said Montgomery about Glazer. "I'll be looking to her, as well as our other seniors, to be good leaders and role models for the younger players in our high school and youth organizations."
The Warriors also landed junior Emily Haury and sophomore Lexie Trombley on the second team.
Rochester won two games at the district tournament before suffering a season-ending loss to Woodland in a game that decided the district's third and final playoff slot.