For the third time over the last four years the Class 2A state boys' tennis champion calls Tumwater High School home.
Freshman Colton Smith ended his first year of high school tennis in a big way by capturing the state title at the Nordstrom Tennis Center in Seattle on May 26.
Smith was not the only Thurston County player to end the season with a strong showing at the state tournament as Timberline's Angela Schuster finished second in the 3A girls' singles tournament and North Thurston's Michael Campbell and Thomas Sui were the runner-ups in the 3A boys' double tourney.
Smith defeated Sehome's Shane Lynette, last year's state runner-up, in straight sets (6-3, 6-2) in the state championship match.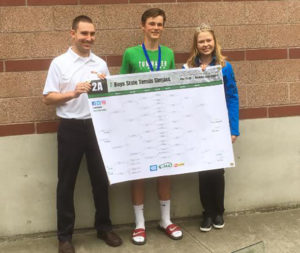 That victory came on the heels of Smith's semifinal triumph (6-3, 6-2) over Selah's Jared Kieser, who finished fourth at state in 2017.
"Colton likes to hit the ball really hard with a lot of spin. He is able to get control of points pretty quickly. He has a very aggressive style of play," Tumwater coach James Click said, "but at the same time is one of the nicest kids you could meet from a very supportive and generous family."
Smith made quick work of his first two opponents at the tournament, defeating both Colton Tenwick of Clarkston and Kyle Beuse of Sedro-Woolley, 6-0, 6-0.
"Most of the tennis folks in the area watched Colton coming up. Even as an eighth grader, Colton was able to stay on the court with college-level players," Click said. "It was pretty obvious that Colton would do well at state when given the chance to compete."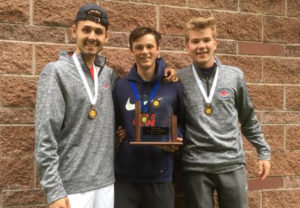 Smith becomes the third Tumwater player to win a state singles title, joining former Thunderbirds Ty Gentry and Eric Rebitzer.
Gentry won three consecutive 2A championships with the final two occurring with Tumwater in 2015 and 2016. He also won a 2A crown with Capital in 2015 before transferring after his sophomore year.
Rebitzer claimed the 3A title in 1986.
As Smith begins his high school career, Schuster put on the finishing touches to one of the best the area has ever seen, finishing as the runner-up in the 3A girls' classification.
It marked the fourth time she has placed at state. In addition to this year's accomplishment, Schuster, who will play next year at the University of Portland, won the 4A state championship in 2016 as a sophomore. She also finished fifth in 4A as a freshman and fourth in 3A last year, becoming one of the few athletes to place multiple times at both the 3A and 4A levels.
During her final season, Schuster went undefeated during the 3A South Sound Conference regular season and tournament play, and captured the district championship to secure her place at state for a fourth consecutive year.
"Angela's continued to improve in tennis by putting in the hard work year round," Timberline coach Kristine Mosher said about Schuster.
Schuster opened up the 3A state tournament this year by defeating Stanwood's Avery Zill in straight sets (6-0, 6-0).
She then faced back-to-back players from Interlake, defeating Angel Le in the quarterfinals, 6-3, 3-6, 6-1, before besting Abby Nash in the semifinals, 6-1, 6-0.
Schuster lost in the 3A championship to Seattle Prep freshman Amelia Asfaw, 6-2, 6-3. It was only the fifth career defeat in high school for Schuster with three of those setbacks occurring at the state tournament to the player who would go on to win the state championship.
After losing the opening round to eventual 4A state champion Sammi Hampton as a freshman in 2015, Schuster won three consecutive matches to place fifth.
She won the 4A state title in 2016 and won the opening round in the 3A tournament her junior year, giving her an eight-match winning streak in state tournament play. Schuster lost in the quarterfinals in 2017 to eventual 3A state champion Vin Daniel of Lakeside.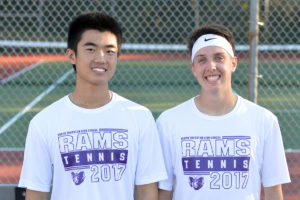 "As far as I know she would be number one for all three areas for women," Mosher replied when asked where she would rank Schuster among the all-time high school greats in Timberline, Lacey and Thurston County history.
North Thurston's Campbell and Sui capped their four-year run by finishing second in the 3A boys' doubles for a second straight year.
Campbell and Sui knocked off teams from Seattle Prep and Mount Spokane in the first two rounds, then rebounded from a first-set loss to put away Lakeside of Seattle's Tate Fuller and Jack Delafield in the semifinals, 6-7(3), 6-3, 6-4.
In the state finals, they lost 2-1 (6-4, 4-6, 6-2) to Lake Washington's Shubhu Purohit and Nedim Suko.
Campbell and Sui were the 3A boys' doubles runner-ups in 2017 after losing to Mercer Island's Christian Anderson and Chris Elliott in the finals (4-6, 6-3, 7-5). They also picked up fourth place as sophomores and were state doubles participants as freshmen.
The Rams finished fifth overall in the 3A boys' team standings, while Capital placed seventh.
Cougars' senior Ranjan Sharangpani notched his third state placing by collecting fifth in the 3A boys' singles.
After losing his opening round match, Sharangpani, who finished second at state in 2017, won his final three matches, including a 2-1 win (3-6, 7-6, 7-5) over Shorewood's Gunner Thorstenson in the placing round.
Sharangpani also finished fifth in state as a sophomore.
Olympia's Justin Ong overcame a loss in the first round at the 4A boys' tournament to register a seventh-place finish.
Gunnar Nelson and Sam Whipple of Black Hills finished seventh in the 2A boys' tournament.
Also competing at state was North Thurston's Amanda Campbell and Brooklyn Harn (3A girls' doubles), Capital's Mari Aitken and Morgan Penny (3A girls' doubles) and Olympia's Natalie Stagnone and Cydne Wooten (4A girls' doubles).