Izzy's Pizza & Buffet has been a staple in Olympia for over two decades serving up classic American fare and buffet style comfort food. While many customers are familiar with popular menu items such as pizza, fried chicken and the fresh salad bar, owners Will & Cheyenne Hayes want the community members to also put Izzy's on their list of Sunday brunch spots.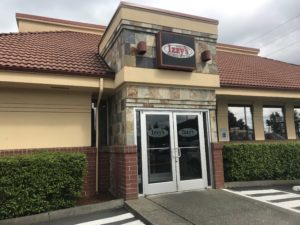 Cheyenne Hayes says that despite a seeming lack of awareness regarding Izzy's brunch, Sundays are still one of the restaurants busiest days of the week.
"We've had a Sunday brunch for years, but it still seems a lot of the community doesn't know that." Hayes says. "It's an awesome brunch with all the classics, but our customer favorites from our regular menu are available all day too, so there are options for everyone."
Brunch items include made-to-order omelets from the grill, French toast brulee, waffles, eggs, sausage, biscuits, and more. Popular buffet menu items like fried chicken, pizza, grilled steak, salad, and even the chocolate fountain are also all available during Sunday brunch.
Normal brunch hours are Sundays, 11:00 a.m. – 3:00 p.m., but on Sunday, June 17, Izzy's will be hosting a special Father's Day Brunch, opening an hour earlier at 10:00 a.m. Izzy's would love to help treat the dads your lives to a delicious meal featuring applewood smoked pork ribs, along with the rest of the brunch and lunch menu items available.
Sunday Brunch regular pricing is $13.59 for adults, $12.59 for seniors (free drink for seniors), and kids age 4-12 are charged at 70 cents per year (i.e. $7 for 10-year-olds), however holiday pricing will be in effect on Father's Day, $14.99 for adults and seniors (drinks still free), with kid pricing remaining the same. Kids three and under are always free.
"Seeing families gather together is one of the greatest enjoyments we experience as restaurant owners," Cheyenne reflects. "We love getting to be a small part of those gatherings each time people walk through our doors. We love this community so much."
Keep up with Izzy's on their Facebook page or Instagram page. Find location, menus, and pricing information on their website.
Izzy's Pizza & Buffet
3540 Pacific Ave SE, Olympia
360-456-0314
Sponsored