The need for home care can arise in a moment, the result of an accident or unexpected surgery. Who do you call? Advanced Health Care has a real person available to answer your questions at any hour of the day or night. Their goal is the same as yours – to allow loved ones to remain safe and comfortable in their own homes.
Created out of Ron and Pat Bode's foresight and determination for a business that would address home care needs for people in Thurston and Pierce County, Advanced Health Care is well into its third decade of serving others, significantly expanding the scope in expertise and area.
As the largest generation ages, the desire for competent, compassionate homecare continues to increase. Advanced Health Care has proven to be innovative in meeting this expansive array of needs. Each client's care is overseen by a registered nurse (RN), who also visits once per month. Care is provided by a team of Certified Nursing Assistants (CNAs) or by Registered Nursing Assistants (RNAs). Nurses, both LPNs and RNs, are available to manage more complex medical situations such as bowel and bladder care, medication management or IV infusions. Advanced Health Care works closely with the family and physician. Services  usually take place within the home, but are also offered at skilled nursing or assisted living facilities or even at the hospital.
Their menu of personal care services will be tailored to fit your short or long term needs. For example, outpatient procedures usually require that someone accompany the patient for safety and transportation. Advanced Health Care will get you to your appointment on time, stay during the visit and then get you safely back home. Perhaps your grandmother needs help with bathing or would like companionship to take her out for errands or a special event. This can be arranged.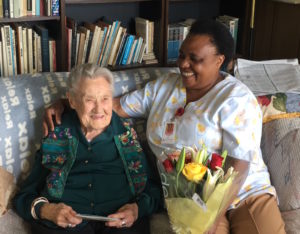 Advanced Health Care knows that clients' needs shift, sometimes unexpectedly, and more care can become necessary. That's not a problem. Additional services like linen exchange, meal preparation or mobility assistance can be added. Specialty services for end of life or dementia care are also in their repertoire. The agency provides services for people of all ages including infants and adolescents. They also serve those with developmental or other disabilities.
Advanced Health Care has a large team of care providers who see clients across the South Sound area. There are offices in Olympia and Tacoma that coordinate to serve people living in Thurston, Pierce, South King, and parts of Kitsap and Grays Harbor counties. Advances in technology allow providers to clock in by using the client's phone to call a toll-free number. This means that checking in at an office is not required, allowing the possibility for clients and care providers to be matched up geographically. Initial interviews take place to fully understand and assess a client's needs. Then the appropriate provider or team of providers is arranged. "Some people are in crisis right now," Julie Ferguson, administrator, said. Care is set up in an expedient manner, usually within 24-48 hours.
The Bode's daughters, Lynessa Bode Stone, VP marketing and recruiting, and Sharla Bode, VP of clinical operations, are part of the management since Pat's passing two years ago and as Ron steps back.
Ferguson is pleased to be part of the ownership team, too. As the company's administrator for over 20years, she is excited to be a part of this family business and actively provides overall supervision and support to its many aspects.
Another notable step Advanced Health Care achieved five years ago is the opening of Procare Academy of Washington, a school they operate within their Olympia and Tacoma offices. Those interested in attaining the CNA designation have classroom and practicum space to learn the necessary skills. This provides a valuable service at several levels. People attain a readily employable skill that is needed in our community.  CNAs, the backbone of the health care industry, are needed at all hours of the day and night and on all days of the week. This creates great scheduling flexibility, which can be essential for students, people with other jobs or those with tight schedules. Full time work is also available. Classes, requirements and final testing take about a month. Check out the website for more class information and registration.
The family of Advanced Health Care is proud to be involved in the greater home care industry. They are associated with and participate with the Home Care Association of America andWashington Home Care Association . "We listen to the need," emphasized Stone. "We are the best kept secret," She smiles, meaning that even after many years in the business, people are still learning about their services. Word is getting out.
Finding the right care for yourself or a dear one can be a delicate endeavor. Talk to the people at Advanced Health Care. Their compassionate care is standing by to ease your needs.
For care information please visit the Advanced Heath Care website or call 1-800-690-3330. Advanced Health Care also interviews for people looking to be part of their health team.
Sponsored