Hurricane Maria really did a number on Puerto Rico. Hailed as the worst natural disaster in the island's recorded history, Maria decimated the territory, destroying homes, power lines, and affecting the lives of over 3 million Americans. Almost a year after the devastating storm, the work to rebuild still barrels on, as locals slowly put the pieces of their lives back together. Seeing their struggle, the folks at Foot & Ankle Surgical Associates (FASA), decided to do something about it.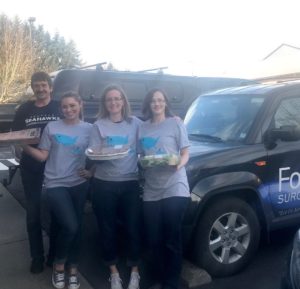 For those that don't know, Foot & Ankle Surgical Associates is Pacific Northwest's premiere option for all things podiatric, with offices in Yelm, Tumwater, Tacoma, Olympia, and Centralia. From surgery to physical therapy, FASA's roughly 70 employees improved the lives of 45,000 patients in 2017 alone. With this kind of success, the folks at FASA decided that helping patients just wasn't good enough. It was time to pay it forward. This year, their attention was drawn to Puerto Rico.
"When we saw the devastating impact Hurricane Maria had on the island of Puerto Rico, we immediately wanted to help," explains Shelby Carter, Marketing Director at FASA. "It was within that month we began organizing our relief efforts. We also wanted to have the opportunity to involve all staff members, not just staff with a medical background. We will have receptionists, medical assistants, managers and doctors all helping to rebuild."
In September of 2018, 15 team members, doctors, staff, and a few of their friends and family will be making the journey to Puerto Rico to assist in any way they can. "This year is different from others because it has been offered for all interested staff to have the opportunity to attend," says Carter. "We feel extremely blessed to have such an abundance of staff members wanting to join together and assist those in need."
Julie Cobb, Tumwater Lead, is one of the team members who volunteered. "I am excited to be a part of the Puerto Rico trip," Cobb says. "I got involved because I wanted to get out of my comfort zone and experience something new. It is an opportunity for challenges that will strengthen our team. I am looking forward to helping in any way that I can. These experiences are a benefit to those we help and to those that do the helping."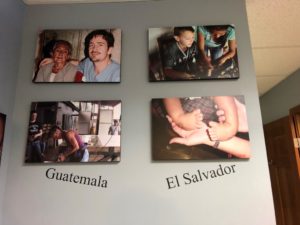 This isn't the first time FASA has helped those in need. "It is one of Dr. Hess's (the practice owner) goals to make these trips a yearly thing for Foot & Ankle Surgical Associates," Carter explains. In previous years, team members have made the trek to Africa, Guatemala, Nicaragua, and Haiti.
Yet traveling isn't the only thing FASA does to give back. The leadership has developed a campaign dubbed "12 Months of Giving," where they make it a point to pay their success forward every month of the year. These acts of kindness and goodwill include volunteering at the food banks, sending Valentines to active military aboard and veterans at home, and local beautification projects. "It is an amazing feeling to work for a company that is so passionate about giving back to those in need," says Carter.
This year's trip is especially important since it will have a positive impact for so many Americans affected by Maria. "I have heard so many wonderful things from those that have been on mission trips in the past," Carter says, "and I am really looking forward to seeing the impact this trip has made on the doctors and staff members that are attending."
With the trip only a matter of months away, the FASA team is getting last minute preparations finalized. "We will be working together to raise funds, plan and work together to get as much done as we can during our time there," Carter clarifies. One way of raising those funds is a T-shirt sale, and FASA encourages everyone to help support their cause.
Even while the plans of the Puerto Rico trips are solidifying, FASA has already begun planning the 2019. While they are still mum on the location, it goes without saying that wherever they go, the world will be better for it.
Foot & Ankle Associates encourages potential patients to go to their website here for more information about the practice.
Sponsored