Jack Farrell entered his senior year at Pope John Paul II High School figuring he'd play baseball once again in the spring. Despite excelling at cross country, Farrell never had any thoughts of turning out for track.

There was a very obvious reason for that.
The Eagles didn't offer track and field as a sport during Farrell's first three years at the school, and up until about six months ago, no one thought it would in 2018 either.
My how things have changed.
Farrell, and 16 of his teammates, will head to Eastern Washington University in Cheney to compete in the Class 1B state championships May 24-26.
"Not a chance," Farrell answered when asked if he ever thought his high school would start a track program while he was enrolled there. "I barely knew anything about track really. Things happened very fast."
Credit sophomores Molly Zepeda and Tim Sellars for spearheading the speedy creation of the Eagles' track and field program.
Both competed last year as freshman for Olympia High School while attending Pope John Paul II. The reason being the Eagles didn't offer the sport, allowing the two to compete in the school district they lived in.
"When I was in middle school at Saint Michael I would dream by the time I left high school Pope John Paul would get a track team," Zepeda said. "My wish came true."
There's wishing and hoping and then there's proactively doing what Zepeda and Sellars did, which was constantly bringing up the desire to start up the program with the school administration every chance they got.
"I didn't even know if we would get a full track team," Sellars said, "but it was something we wanted here."
Once Scott Carter was hired on as the Lacey school's communication and recruitment officer, Zepeda and Sellars saw that as their best chance to get the ball rolling.
Carter, who graduated from the University of Wyoming in 2017, was a member of the Cowboys' track and field team, competing as a hurdler and in the triple and long jump.
"When we heard Mr. Carter was going to be here we just saw that as a great opportunity," Zepeda said. "He has so much experience in track. We knew it would help."
This past winter the school elected to move forward with bringing track and field to the school and Carter was hired as the Eagles' head coach.
"It all happened really quickly," Carter said, "but everything lined up absolutely perfect. We got a lot of help from admissions and our athletic director Anthony Herness. There really was a lot of hands helping out."
After receiving the green light all they needed now was a team.
Zepeda and Sellars immediately hit the recruiting trail, but that proved to be the easiest part out of everything.
"We were recruiting people in the hallways just trying to get people excited about track," Zepeda said. "It just kind of all came together."
Word was out on the Eagles' new track and field program.
"I thought we weren't going to have enough people, but everyone just signed up," Sellars said. "Once the seniors bought in, everyone else jumped on board."
Out of the 92 students enrolled at the school a remarkable 37 were members of the track and field team.
"It's been absolutely incredible. The kids just bought in and ran with it," Carter said. "We had kids qualifying for districts in running, throwing and jumping events that had never tried track before. The enthusiasm and the love for it has just been incredible and the results are showing that."
Pope John Paul II has performed like anything but a first-year program, finishing second in the SeaTac League and third at the 1B Tri-District championships.
The Eagles advanced 11 boys in 8 events to state, while the girls' squad will have 6 members competing in 7 events.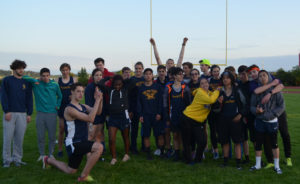 Farrell, who will compete next year in both cross country and track at Saint Martin's University, has a strong chance of becoming the school's first ever state champion. The senior will compete in four events at state, including the 800 and 1600, which he holds the state's best time among 2B runners this year.
Zepeda will compete in the 200, 100 hurdles and long jump.
"I was thinking it would be quite a few years before this actually happened," Zepeda said about the creation of the school's track program. "We actually didn't think it was going to happen this year. I think the most rewarding part is being able to begin something here. We can all say we were the first team here, and that means a lot to me."