Submitted by Charter College
Teresa Miller had enjoyed a 30-year career as a medical assistant (MA), spending most of it working in group and women's healthcare facilities, when she decided to give teaching a try. She joined the Charter College Lacey staff in 2016, as a Medical Assistant Instructor.
Tia Clancy worked at a California casino for 13 years before she decided it was time to do something more productive and fulfilling. "I wanted to contribute to society in some way and my friends said I should become a nurse because I like helping people," she said. "I looked into programs, found medical assisting and decided to pursue that."
Clancy graduated from Charter College in 2014, earning a Medical Assistant certificate. She then joined Olympia Pediatrics as an MA, while also working part-time as a Charter College instructor. She's excited about sharing her love of her job with others who might be interested in health care. "I love helping families and working with children," she says.
Miller says most people enter this field because they want to make a difference and help people. "Every day I worked as an MA, I went home tired and fulfilled. It's rewarding being able to help patients who are getting potentially life-changing diagnoses."
Miller and Clancy work with the other Charter College instructors to ensure students are prepared with the skills they need to go out into the real world of health care. "It's exciting working with our students and sharing what I've been doing for most of my adult life," Miller said. "They're here because they really want to learn and it's incredible when I see the lightbulbs go off."
Conveniently located at 4520 Lacey Blvd SE, Suite 40, Charter College Lacey offers programs designed to give students the skills they need to begin a career in the growing health care industry. Currently, Charter College Lacey offers certificate programs in medical assistant (MA) and pharmacy technician.
The Medical Assistant program, which is available at all Charter College campus locations, incorporates a combination of clinical, technical and business skills, preparing graduates for entry-level employment in health care, in a variety of positions, including: Medical Assistant, Clinical Assistant, Medical Receptionist or Medical Office Assistant.
Clancy says Charter College's approach to education helped her achieve her goals. "I really liked the flexibility. I was able to hold down an almost full-time job, take care of my kids and attend school," Clancy says. "Obviously my kids were my priority, but when they were in bed I'd have an hour every night to work on my schoolwork."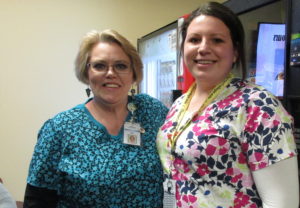 "This program can be completed in 10 months," Miller says. "It's fast, but it's not easy. We throw a lot at them in a relatively short period of time."
Most of Charter College's MA instructors are either currently working in the fields they teach, or they have in the past. "We're able to share our knowledge and skills with our students," Clancy says. "When you only learn from a book, it's not the same."
"We know from experience that you're going to be touching people's lives in a very profound way so it's critical that we get it right," Miller says.
For more information on Charter College's Lacey campus, visit https://www.chartercollege.edu/locations/washington/lacey-wa.