On May 3, a group of people from our local community and beyond gathered together in celebration at South Puget Sound Community College's Lacey Campus. Held in the TwinStar Community Foundation Event Center, it was a mixed group, old and young, business owners, students, and non-profit representatives. Many attendees did not know the others in the room, but they came together, all having one thing in common. They were there to celebrate and appreciate members of the SPSCC President's Club and newly inducted members of the Lifetime Circle.
The SPCC President's Club is made up of individuals, families, businesses and non-profits that give $1,000 or more annually to the SPSCC Foundation. Lifetime Circle members are those that have given $25,000 or more over their lifetime of giving.
The contributions of these generous groups and individuals support student scholarships and the Student Success at SPSCC. Scholarships are given to eligible students to help pay for tuition and can help supplement state and federal aid. The Student Success Fund allows the college to provide money to students quickly when there is immediate need. This can be an emergency stopgap to students when they need funds to pay for a car repair or when they run short of money for a textbook.  It is also a resource for the purchase of specialty tools and supplies for SPSCC's professional and technical programs.  Additionally, the Student Success Fund can provide completion funds. These funds are set aside to help students that find themselves in financial hardship during their final quarter before graduation, helping with the financial funding they need to finish their degree and walk across the stage.
"It was about gratitude, friendship and people coming together to make an impact in the lives of our students," says Tanya Mote, executive director of the SPSCC Foundation. She describes the event as warm and welcoming. The atmosphere in the room was electrified with hope and anticipation about what the donors' gifts would mean to students.
The event came together with the support of many departments from within the SPSCC community. Guests were treated to a delicious dinner prepared by the SPSCC culinary department and treats from the Baking and Pastry Arts department. ASB Student President Ashleigh Debuse, who has her sights on set on becoming an Astro-botanist, was on hand with other student leaders to greet incoming guests. She was joined by many other student leaders who socialized, networked and provided a welcoming environment for guests and honorees.
Attendees of the event were treated to the inspirational words of Madelyn Olson, the student speaker, who is an SPSCC Running Start student and food pantry coordinator for the SPSCC food pantry. The food pantry was established by another SPSCC student, Kate Armstrong, and serves the members of the SPSCC community.
Dr. Timothy Stokes, SPSCC president, also spoke to the attendees, sharing plans to for new projects, like current student initiatives to increase health and wellness with a gym and fitness center on campus.
This year's event inducted more individuals and organizations than any other year before it. "This event honors our donor's generosity, care for students, and their investment in education," says Mote. Reasons for contribution to the SPSCC Foundation vary, but the value of what they give is beyond the measurable amount of their donations. What they give enables more students to graduate. It invests in a qualified workforce and provides greater community opportunities for all people. It is safe to say that President's Club and Lifetime Circle members are helping future students achieve their dreams. Attendees of the event left inspired with feelings of gratitude for the generosity that is woven into the fabric of our community.
A number of individuals and families were inducted into the Lifetime Circle this year: Tom Allen; Dr. D. Mark and Olivia Brown; Leonor and Jay Fuller; Judy Hartmann and Mike Roberts; Steve McRavin and Patti Gora-McRavin;  Mike and Teri Murphy; JoAnn Ross; and Brian and Barbara Vance.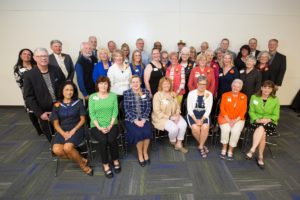 Legacy gifts, trusts and memorial funds are funds donated through family trusts, either in their estate planning or given in memory of a departed loved one. These often overlooked ways to give are an opportunity for donors to ensure their generosity continues to help their community, and for families to express generosity in memory of their loved ones. This year two estates were inducted, the Hal Marcus Estate and the Kenneth and Peggy Ann Ritchey Trust.
Several businesses that are investing back into the community were inducted: Columbia Bank; Event Planning Specialists, LLC; FORMA Construction; and Olympia Orthopaedic Associates.
A number of community organizations were inducted this year as well: Corvettes De Olympia; Saint Martin's University; The Community Foundation of South Puget Sound; Thurston Mason Counties Medical Society Alliance; TwinStar Community Foundation; Zonta of Olympia; and Zonta of South Puget Sound.
If you are interested in donating to the SPSCC Foundation, information can be found on the South Puget Sound Community College Foundation website about the many ways to donate.
Sponsored