Submitted by The Washington Center for the Performing Arts
The Washington Center is excited to announce two winners of this year's Anacker Scholarship for the Arts. Since 2014, the Washington Center Anacker Scholarship for the Arts has been awarded to High School seniors from Thurston County who plan to pursue a career in the arts.
The scholarship was founded by former Washington Center Board President Sally Anacker, on the principle that the Washington Center should support the pursuit of art among young people. Both winners exemplify Sally Anacker's belief that art enriches lives.
Caroline "Caddie" Derby
Caddie Derby has made her mark on the Olympia area as a musician and dancer, participating in shows with Ballet Northwest and Masterworks Choral Ensemble, among many others. Her career goals include playing in a professional orchestra and opening her own ballet studio. She will attend Belmont University in Nashville, Tennessee, where she will pursue a Bachelor of Music with a focus in commercial music and a minor in Dance.
McKenzie Goff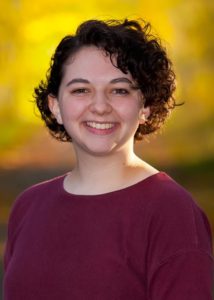 McKenzie Goff is a visual artist and musician with a demonstrated commitment to improving the lives of others. She plays Alto saxophone in her school's jazz ensemble as well as serving as drum major, where she consistently impressed her peers with her compassionate leadership style. Goff has volunteered as a camp counselor for low-income children, and calls helping others her greatest satisfaction. She will attend Western Washington University in Bellingham, Washington, where she will pursue a Bachelor of Arts in Design.
The Washington Center for the Performing Arts is a not-for-profit performance venue.