Submitted by Lacey Pocket Gophers
The Lacey Pocket Gophers are celebrating their reign at the top of the Western Washington Premiere League standings by bringing out a taco truck for concessions for Saturday's home match vs. Centralia's Twin City Union.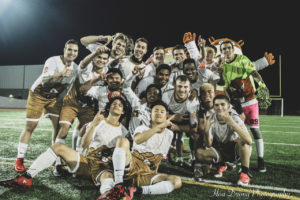 The match starts at 7:30 p.m. at North Thurston's South Sound Stadium (doors open 1 hour prior), and the first 500 fans will receive a free pair of thundersticks courtesy of 94.5 FM's Roxy which attendees can bang together while waiting for El Tacon's authentic mexican offerings.
"We wanted to celebrate our Salute to Service Night with as much exciting stuff as possible," said Chairman/President Troy Kirby. "Those who also donate a non-perishable food item to the Thurston County Food Bank truck on-site will also receive $2 off their match ticket."
Salute to Service Night honors military, first responders and non-profit volunteers in Thurston County who help improve the community on a daily basis.
"We're proud supporters of the South Sound Military Communities & Families Partnership as well as the Thurston County Food Bank," said Kirby. "With over 30,000 military families in Lacey, as well as a large percentage of people from JBLM, we thought it was important to do a Salute to Service Night correctly."
Back for the May 19 match is the video game truck, along with JLO Magic's facepaint and italian gelato by Sofie's Scoops. Kirby also said that there a few more in-game promotional activities waiting to be announced.
"We are always trying new things, whether it is GopherBingo or our mascots performing at halftime," Kirby said. "We have music during our gameplay, giant bouncehouses by Charlie's Safari, and different local performers who help us bring the show to Lacey. With all of the thundersticks we are giving out, I expect our fans to make some noise as well."
Singing the national anthem for May 19 will be St. Michael's Parish School's Band Director, Theresa Mckenziesullivan. And Tom "The Human Jukebox" Newton will be singing selected hits during halftime. Newton gained a bit of Facebook notoriety when his singing karaoke at Costco was filmed and posted online, drawing nearly 5,000 views.
"Our aim is to be Lacey's home for family fun sports and entertainment during the Spring and Summer," said Kirby. "It also doesn't hurt that we have an undefeated team that is at the top of our league's standings."
The Pocket Gophers are undefeated at 2-1-0, at the top of the Western Washington Premiere League. The Pocket Gophers had 217 excited fans at the May 5 match, in which they won 4-1 over Federal Way FC. They even gave away a 22XL t-shirt. There's no telling what they will do on May 19.
Purchase your tickets online by clicking here.