In our hustle and bustle society, few experiences are quiet yet utterly immersive. But in the Pacific Northwest, we're lucky to be surrounded by waters perfect for exploring by kayak. When you're silently gliding the Puget Sound, especially under the skilled guidance of Kayak Nisqually, nature appears around every turn.
Kayaks have existed for thousands of years but have experienced a renaissance recently. Business Wire reports that kayaking is growing in popularity because it "acts as an effective cardiovascular workout, improves balance and coordination, provides endurance training, and is a strength training tool to build muscles. Apart from being a form of exercise, the sport also allows users to interact closely with nature, thereby reducing stress and tension."
Beyond exercise, kayaking is gentle on the environment and an ideal way for residents, visitors, families and students to sustainably experience Puget Sound. At Kayak Nisqually, owner and guide Sam Kaviar is a biologist and Fulbright Scholar who has worked for, and on behalf of, the United States Geological Survey, Cascadia Research Collective, and Washington State Department of Natural Resources.
With nearly a dozen half-, full-, and multi-day packages, Kaviar and his team get you up close and personal with nature. They provide the boats, lifejackets and equipment, including waterproof binoculars; you simply show up with a packed lunch ready to explore.
Perhaps the most popular option is the Sunset and Bioluminescence Tour,  but they also offer a Porpoise Paddle, Pre-Dawn & Sunrise Tour, and fully-customizable private full- or half-day expeditions. Kaviar explains that the sights and wildlife can vary by water currents and temperatures day to day. Global warming also means species typically native to Northern California like dolphins, gray whales, and humpbacks are frequent visitors.
On their full-day tours, groups typically paddle to Anderson Island where they'll stop for lunch on an undeveloped, wild beach. Because this is deeper water, it has different animals than those found at the Nisqually Delta's river mouth. With the guidance of the expert naturalists at Kayak Nisqually you will leave the birds and wildlife is undisturbed. It's not unusual to see porpoises, animals fishing for salmon, seals and their pups and more.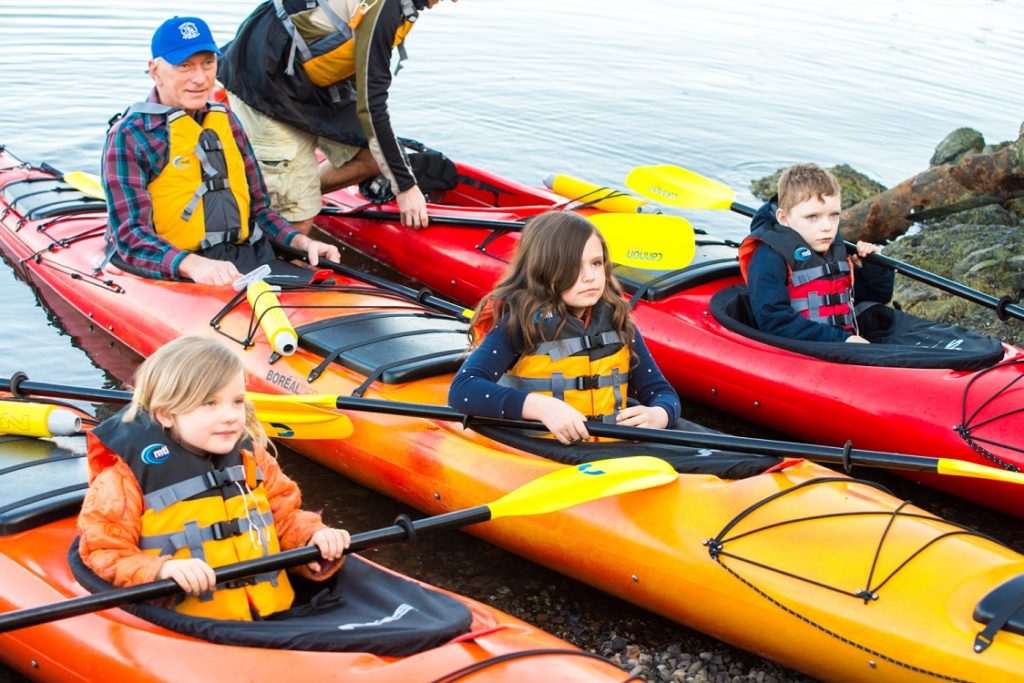 Half day offerings explore nearby Anderson Island and the mouth of the Nisqually River while day-long trips meander the Nisqually Reach. You can browse availability and tour options via the Kayak Nisqually website. Day tours are $89 per person and take 5 hours on the water while 3-hour half-day excursions leave at 11:00 a.m. or 3:00 p.m. and start at $49.
When paddling close to land or camping overnight, groups have seen coyotes, mink, eagles, frolicking baby otters, and a shipwreck claimed by massive basking sea lions.  Educators take note, Kayak Nisqually's founder is an expert in ethology or animal behavior and can set your students up to study and observe wildlife in the tradition of Jane Goodall.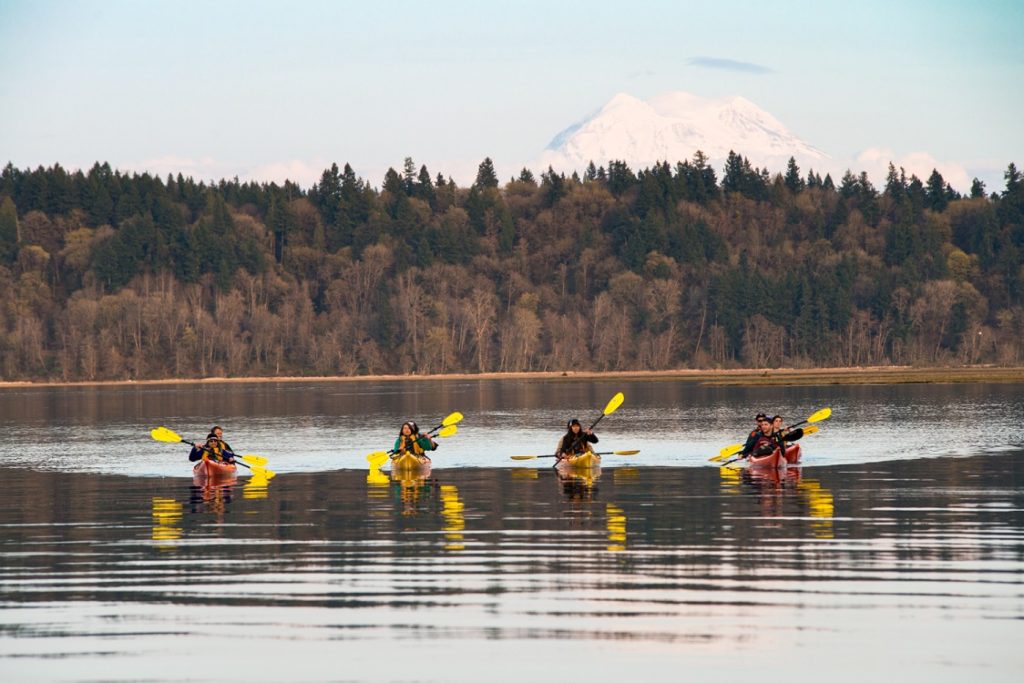 And this is where having a skilled guide is crucial. Not only can they teach you to travel efficiently using water currents and channels but also keep you from rowing into trouble. The Nisqually National Wildlife Refuge has grown concerned that unaccompanied kayakers trespass where they're not allowed. Guides like Kaviar, who will be presenting a talk about Kayaking the Nisqually Delta and Reach on May 12, know the varied legal and ethical guidelines.
"I cut my teeth as a sea kayak guide in the San Juan Islands," explains Kaviar, so can easily instruct "people who are really green." His tours require no previous experience and have included field trips and office retreats. Recent groups hailed from the Evergreen State College, his alma mater where he still guest lectures on eco-tourism and biology, the Northwest Indian College, and a local chiropractic clinic.
If you can't travel to Kaviar's centrally located meeting point, he can bring the expedition to you. For a fee, your school field trip, wedding party, retirement or special get-together can happen on the water. From Mount Rainier to the ocean, Seattle to Portland, Kayak Nisqually wants to show you the true Northwest.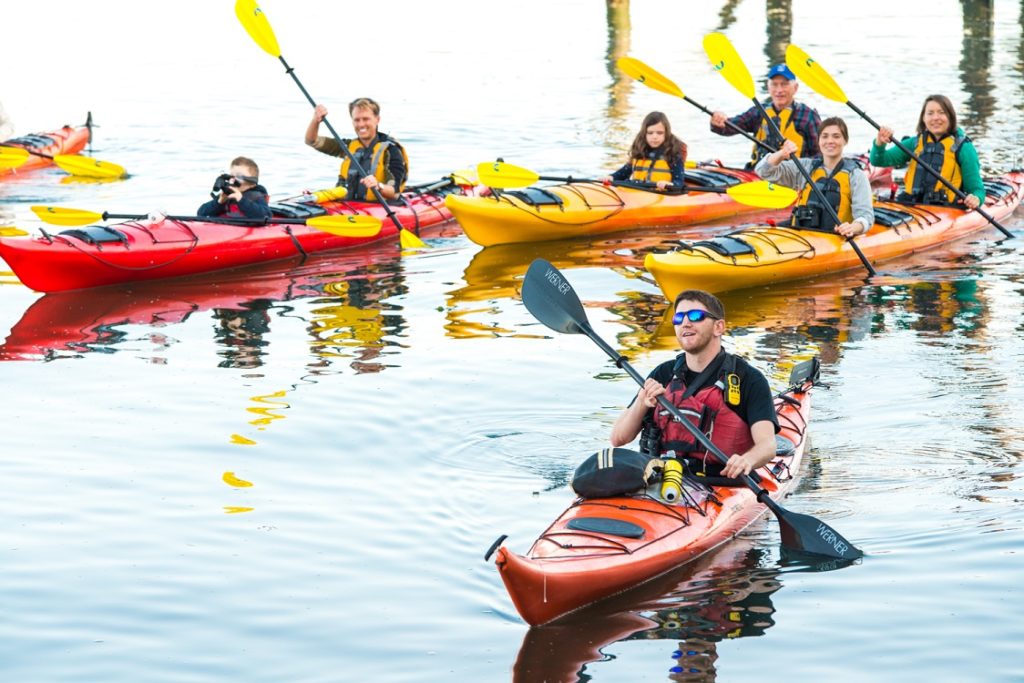 Private lessons are available. Families are welcome as kayaks are tandem; adults row from the back while kids enjoy a front-row seat.
Read testimonials and five-star reviews online, then check availability and book your trip through their web portal or emailing adventure@kayaknisqually.com with your customized excursion wish-list.
Renowned lover of the oceans Jacques Cousteau once said that "People protect what they love." After exploring Puget Sound with Sam Kaviar and Kayak Nisqually, you'll find yourself doing everything in your power to preserve the Northwest's unique and beautiful waterways.
Sponsored