At some point, we're all caregivers. Whether for parents or children, spouse or friends, it's a vital way to show our love. But if that burden is long-term, it often requires skilled help, support and respite. This is where the Senior Services for South Sound's STARS Adult Day Program steps in.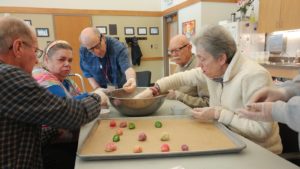 The National Alliance for Caregiving and AARP report that nearly 44 million Americans provide unpaid care annually. At STARS, their mission is to "ensure that your loved one gets a chance to participate in a safe, fun, and nurturing community while you get the break that you need."
"We provide social interaction and a fun place to belong, activities to look forward to, and friends and a supportive atmosphere for participants and respite from care-giving for their family members," explains Paul Taylor, Program Director. He estimates that they help between 12 and 20 people a day, 40-45 participants in any given month, and 60-80 families throughout the course of a year.
The program began in 1983. "Starting at local churches with just one paid staff and church volunteers," says Taylor. "Daily interactions include up to five hours per day of fun games, arts and crafts projects, demonstrations, group discussions, music therapy, pet therapy, physical games and daily exercise. Participants can attend as many as five days a week, Monday through Friday, depending on availability. Our trained staff provide great activities, snacks and/or lunch, personal care, and medication assistance, if needed." The STARS Program has two locations, the Virgil Clarkson Lacey Senior Center, and a location in Shelton at the Faith Lutheran Church.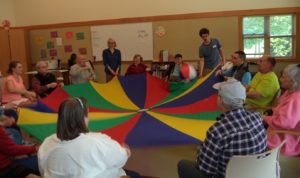 The service isn't just for those with Alzheimer's or dementia. "We provide service to adults with permanent disabilities so it's not just for people with dementia," he adds. "We have clients with Alzheimer's Disease, dementia, developmental delay (Downs or Williams syndrome and autism), physical ailments (like hip problems), traumatic brain injury, mental health issues, heart ailments, or even undiagnosed adults who just need extra looking after during the day in order to stay safe."
To encourage community engagement for those with dementia or Alzheimer's, there is now a Momentia group that visits galleries, tours gardens, hikes and works on art and writing projects. It provides a comfortable space for those living with dementia and their caregivers to have experiences together. The most popular offering is Memory Café, offered the first Thursday of each month from 2pm to 4pm at the River's Edge in Tumwater. Memory Café is free to attend, those attending pay for their own meal and spend time meeting others with dementia and Alzheimer's enjoying time together.
Volunteers and donations are always welcomed. "We need volunteers to help out as program assistants, spending time with our participants, helping them with activities, art projects, games and just being a friendly face," Taylor says. "People can also volunteer to share musical talents, hobbies and other presentations with our participants. Financial donations are always welcome and those funds help us offer scholarships to participants who might otherwise be unable to attend our program."
To volunteer, donate, or find out more simply call 360-407-3967 extension 107 or email stars@southsoundseniors.org.
Sponsored