A couple years ago, Dirk Ayala's wife got him a metal detector for Christmas. Soon after, he found friends and mentors who shared his interest in metal detecting through the Outlaws Metal Detecting group in Tacoma. It was a bit of a drive to
the meetings, so he asked the club about starting a second chapter in Olympia. In February 2017, the Outlaws South Sound Metal Detecting Group came to be, and they held the first meeting in West Olympia. Since then, membership has grown to 20 metal detecting enthusiasts, 10 of whom are really active.
"It's all one family," Dirk says of the Outlaws in Tacoma and the South Sound Chapter. This group functions just like the Tacoma group, which means it's pretty informal. There's no membership fee and no officers. A donation jar is put out at meetings, but donations are completely voluntary. The money raised goes towards a big summer picnic with the Tacoma group or to cover nominal club expenses like business cards.
Outlaws South Sound holds a meet on the second Thursday of each month from 7:00 p.m. to 8:00 p.m. They go over club business, vote on where to have the next month's group hunt, and then a session of show and tell. That's when members bring their recent finds and share stories about their detecting exploits.
Group hunts usually begin at daybreak on a weekend at a park or on public land somewhere in the area and last until noon. Even if covering a small park, members can end up walking quite a bit. "It's super therapeutic," says Dirk. Along with getting outside, other side benefits to his new hobby include all he's learned about different types of soil, coins and metals. Another perk is never needing to go hunting alone. Dirk has also learned to clean his finds through electrolysis.
"I've been able to meet some good friends," Dirk adds. "I've become friends with guys I never would have met otherwise."
According to Dirk, the first rule of metal detecting anywhere other than your own property is to make sure you have permission. Second, is to haul out all the trash you find. "Ninety-eight percent of what you'll find is trash," says Dirk. That's why most people carry a small collection bag that straps around their waste. The third rule, is to dig a clean hole, not leaving any obvious signs of digging behind.
A metal detector's essential supplies include – of course – a metal detector, a collection bag mainly for hauling out trash, and a digger or small trowel. A couple non-essential but helpful items are an "official" metal detecting shovel with a t-shaped handle, which can be nice so you're not constantly bending over to dig. The other is a "pin pointer," which is an electronic device that can probe the ground after a metal detector makes the sound indicating it found metal. A potential find is called a "target." Pin pointers help find targets with less digging.
Some metal detectors think popular areas can get hunted-out, but Dirk believes you can always find something. He's detected in his yard on Tumwater Hill numerous times and just recently turned up a rare 1901 Canadian large cent coin. Different conditions, different equipment, different times of year, all these can lead to new finds in areas that have been scoured before.
Dirk finds a lot of horseshoes, keys, and even pocket watches, but one of his "personal bests" is a mid-1800s seated Lady Liberty half dime. "To find that in Olympia is pretty cool," he exclaims. Two walking Liberty half dollars, one from 1919 and the other from the 1940s, are also at the top of his list of favorite finds.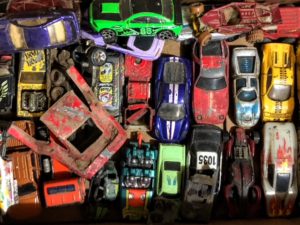 "Clad" is a metal detecting term for common modern coins. Dirk has jars full of those. Even though they aren't rare, or valuable, clad is still fun to find.
"Finding jewelry is really fun," he adds. Even better is being able to trace the ownership of found jewelry and return it to its owner. That's considered a "bucket-lister" to many in the metal detecting world. There is even a nationwide group called The Ring Finders who specialize in it.
Very few detecting enthusiasts sell their finds. Most slowly build up displays or create shadow boxes with various related collections. These displays can be used to give talks on local history, show others your finds and help gain permission from landowners to hunt on their property.
Anyone with an interest is encouraged to join the Outlaws. They'd like to encourage more women to join. The group can be reached through their Facebook page: Outlaws of South Sound Metal Detecting Group .