It's something Matt Herrera had never done during his seven seasons as the North Thurston High School boys' soccer head coach.
"(Coming into) this year was different. I wasn't sure how we were going to play," Herrera said. "For once I trusted the kids and asked them what formation they thought they could execute."
The unanimous answer among the senior-heavy squad was to play a 3-5-2. Herrera wasn't initially 100 percent sold.
"They said that's what they wanted to try, but I was really nervous about that," Herrera said. "It's very ball control, specifically in the middle. You have to have three solid defenders. You have to trust them to do their job, and you have to have three midfielders who have the condition to get back and forth and control that ball."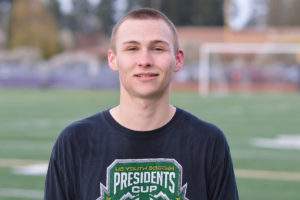 Herrera had his doubts, but it's what the team wanted so he gave it a try. The first game of the season, the Rams defeated 3A South Sound Conference contender Peninsula, 2-1.
"After they won that first game," said Herrera, whose team was 0-2 last year against the Seahawks, "I told them they made a good choice so let's keep going."
A wise choice indeed as North Thurston opened the season by winning its first four matches by a combined score of 17-5, forcing Herrera to continue to acknowledge his team's decision.
"He's not impressed very easily," senior Jackson Winterrowd said about his coach. "So when you do something out of the ordinary and you get a compliment from Matt, it feels pretty good because he doesn't give them out very often. We've been winning so that helps."
The Rams are enjoying one of their strongest regular seasons during Herrera's tenure as coach, winning eight out of their first nine games, with their only setback coming in a 1-0 loss to conference leader Gig Harbor.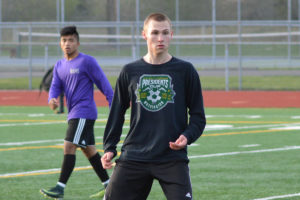 The solid play has the team, which features 10 seniors overall with eight of them starting, eyeing a return to the state playoffs for the first time since 2011. Advancing to the postseason has not been a problem for the program in recent years, but getting out of district play has proven to be difficult.
This year's seniors have made three consecutive trips to the district playoffs – each ended short of securing a berth to the Class 3A state tournament.
Winterrowd is looking to change that trend.
"We've really been mediocre my freshman through junior years here," Winterrowd said. "We want to make a run. In previous years, we would have a few good games, but this year we want to do that throughout the entire season. This year we've been coming together. We're creating a lot of opportunities, and we're finishing on a lot of them too."
Winterrowd is joined in the lineup by fellow seniors Ignacio Arceo, Addison Demeire, Ethan Donovan, Ian Gibbons, Miles Hamilton, Melvin Lops, Koby Marcott, Jaeger Maxfield and Edwin Pope-Ochoa.
"A lot of them have been starting since freshman year and if they weren't starting, they were playing the entire game," Herrera said. "It's nice to bounce ideas off a senior group that has had a lot of experience. It's definitely a positive to have so many seniors. My coaching style is really about breaking things down and asking the players what they are seeing out there and how can we fix it instead of me just barking out orders. Having players like Jackson and the other seniors helps with that incredibly."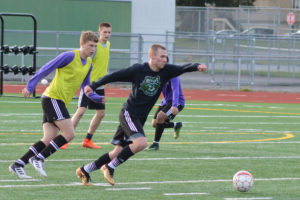 Winterrowd is one of several four-year starters for the team, which went 6-7-3 last year before losing in the first round of the 3A West Central/Southwest Washington district tournament to Wilson, 2-1, in a contest that took two overtimes.
"This group has played a lot of soccer together," said Winterrowd, who will attend the University of Colorado Denver in the fall. "A lot of the seniors have played four years of varsity and before that we all played club soccer. I think we've grown together and added bits and pieces along the way. Everything is all coming together this year for us, and it's been working out so far."
Herrera is quick to point out the multiple hats Winterrowd has had to wear over his four years with the program – from being a team leader early on to his consistently strong play, which saw him join teammate Jack Harrison on the second-team all-conference list in 2017.
In both regards, Winterrowd has more than delivered.
"What sticks out the most is his calm demeanor when he plays. He just doesn't get shaken up or nervous and he's been like that since his freshman year," Herrera said. "It's very weird for a freshman to have that level of calm. He doesn't get rattled. That partnered with his individual technique and his ability, he can use both feet, he's got pace, he's big, he's strong, he's good in the air. Overall, he's everything a coach would want in a forward."