Jeter Larson was ready for the upcoming celebratory beat down the moment he reached first base. This was not the first walk-off game winner the River Ridge High School junior had come up with. He was more than prepared.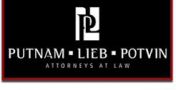 Trailing by five runs in the sixth inning, the Hawks looked as if they were headed to a disappointing home loss to Eatonville. The team had a handful of positive moments up to that point, but for the most part it could be deemed a lackluster performance.
River Ridge coach Chad Arko challenged his players before they went up to bat in the sixth, reminding them how important it was to not let opportunities slip by. His words rang true. The squad immediately delivered.
The Hawks pushed five runners across over the next two innings, sending the contest into an extra frame. In the eighth, Ryley Larson, Jeter's twin brother, managed to get on base with two outs. Two batters later, Jeter's perfectly placed blast to left field sent Ryley home.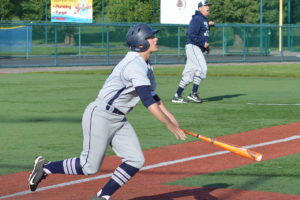 River Ridge won, 11-10, in dramatic fashion to remain in first place atop the 2A South Puget Sound League Sound Division.
The moment after Ryley touched home plate, the entire Hawks roster raced over and mobbed Jeter. Everyone was excited, but few were surprised with what transpired considering the individuals involved.
"He's so clutch. In every clutch, moment he steps up," Ryley said about his brother. "I knew if I got on base something great would happen."
Ryley can't remember a time when this wasn't the case with his brother. If there was a tense moment during a sporting event, Jeter constantly came through. Back in elementary school Ryley recalls the brothers competing in a free throw shooting contest. The participants were allotted as many warm-up shots as they believed they needed. Jeter was the only one who opted against taking any.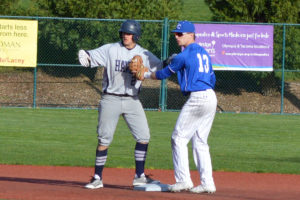 "He doesn't take a single warm-up shot," Ryley said, "and goes out there and hits 15 in a row. But that's Jeter."
If you ask Jeter, however, that's also Ryley.
"He's a hum-baby. That's what we call him," said Jeter, showing one example of his extensive baseball vernacular. "If there's an extra base to be taken, he takes it. If he's sitting on two strikes, he's up there like he has no strikes. Mentally, he is just so dialed in. You can't sleep on Ryley."
And no one is sleeping on the Hawks this season as they challenge for a division championship with the Larson twins playing a large role in the team's success.
"This group is really buying in to playing team ball and not just being an individual out there," Arko said. "They're playing for each other and come out excited to get better each day."
When he's not coming up with game-winning hits as a designated hitter, Jeter is the team's ace.
Through River Ridge's first 11 games, Jeter posted a 4-0 record with a microscopic 0.69 ERA, only surrendering 2 runs on 7 hits with 32 strikeouts while walking just 5 batters. The most eye-popping stat may be the fact that teams are hitting just .099 off of him.
He's equally dangerous at the plate, hitting nearly .450. Eatonville was unfortunate enough to see both sides of Jeter as he pitched against the Cruisers in the first meeting before going 3 for 5 at the plate and scoring 3 runs in the second meeting the following day.
"His competitiveness is like no other and his I-hate-to-lose attitude feeds off to the rest of the team," Arko said. "He just has the attitude of, 'Let's compete for seven innings today' when he is on the mound."
Ryley is currently playing center field for the Hawks, stepping in to fill the role for injured junior Blake Anderson, who had the highest batting average on the team last year, but is sidelined with a broken leg during the opening portion of River Ridge's schedule this season.
Ryley, the team's usual starting right fielder, slid in seamlessly. He has even impressively thrown out one runner at first from center field already this year and he has been a terror with the bat, hitting around .350 with a grand slam and a pair of triples while registering a .622 on base percentage.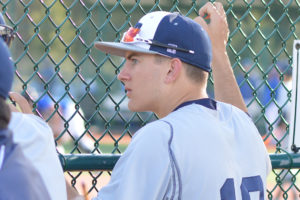 "He's a student of the game," Arko said. "Especially on the base paths and finding the opponent flaws."
Few have been with River Ridge baseball longer than Arko, who is in the middle of his 18th season with the Hawks, but Jeter and Ryley have to be near the top of that list as both were practically raised around the program.
Neither brother can remember a time where they weren't associated with Hawks athletics as their father, Gary Larson, has worked and coached at the school since it first open its doors in 1993 and is the school's athletic director.
"(Gary) has instilled them with such good baseball values and fundamentals," Arko said. "The boys are such great teammates because they understand the game very well and are able to help their teammates evaluate their own process during the game."