For nearly 125 years, Saint Martin's University has been part of our local landscape. The campus has watched the region grow and change from its hilltop vantage point. Throughout it all, the university has been a place of education and guidance to generations of students.
One of Saint Martin's finest is doing her best to teach and guide others on a journey of science and sustainability, activism and action. Abigail Limov, a Class of 2018 biology major, has worked hard—and successfully—to bring the nationally renowned Wild and Scenic Film Festival to Saint Martin's for the first time.
Born and raised in northern California, Limov's mother worked for the South Yuba River Citizens League (SYRCL) who coordinates the festival. SYRCL (pronounced "circle") aims to "protect and restore the rivers of our home watershed from source to sea. The Wild and Scenic Film Festival puts our work into the broader environmental and social context. It reminds us that we're participants in a global movement for a more wild and scenic world."
"I pretty much grew up there, helping out for years and years," says Limov. After moving to the Pacific Northwest and settling in to life as a Saint, she decided it was time to "just bring it with me!" A biology major, Limov has extensive background in event coordination and found Saint Martin's great to work with throughout.
"It was pretty easy getting the school involved; the school and the community have been super helpful." As president of the Biology Club, she and the club's advisor, Aaron Coby, PhD, hope the festival will raise awareness both in and around our area.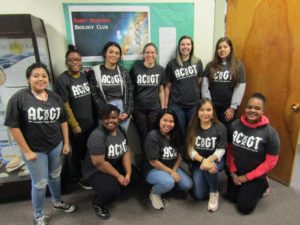 Says Coby, "Abigail brought the film fest idea to my attention last fall. She has firsthand experience with this festival and was excited to have the opportunity to bring it to Saint Martin's University. It's perfectly timed with the kick-off of our new environmental studies program. It has been especially gratifying to work with such a motivated student. My job in the organizing of this event has been as facilitator rather than leader. Abigail has taken the lead and that makes me confident in the outcome. We're very excited to share this festival with Saint Martin's and the broader community."
The festival will take place at the Norman Worthington Conference Center on Thursday, April 26. Doors open at 5:30 p.m. and programming begins at 6:00 p.m. Tickets are $15 for students from Saint Martin's, Evergreen, and South Puget Sound Community College, and $25 for community members.
Saint Martin's Bon Appétit will cater sustainable appetizers, cookies, and—never fear—popcorn for attendees, and 11 films will be aired. The films cover green topics galore, showcasing issues locally and across the globe.
Films being screened this year are "Wild Olympics," "A Letter to Congress," "Dream Day," "Eating for Change," "Growing Change," "Conservation Generation," "Every Bend," "The New Environmentalist: Water Song," "The Wild President," "Think Like a Scientist: Boundaries" and "Disobedience."
Limov also reached out to environmental organizations working in and around Western Washington who will be on-site with information booths and hands-on opportunities."If you find the films inspiring, then you can meet local groups to volunteer, sign-up and more."
The Environmental Studies program at SMU will be hosting an Open House as well from 3:30 p.m. to 5:30 p.m. in Harned Hall where visitors can learn more about degrees – and jobs – in environmental fields from organizations and employers seeking people with a passion for, and training in, environmental areas.
"These groups are so supportive and they're excited to be sharing the event and getting involved!" So far, Stream Team, South Puget Sound Salmon Enhancement Group, OlyEcosystems, Capitol Land Trust, GRuB, Evergreen's Master of Environmental Studies and the Nisqually Land Trust are confirmed with others on the way.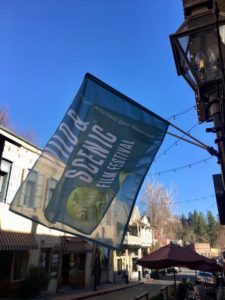 Perhaps not surprisingly, outside of class and club, Limov is active in anything outdoorsy, especially hiking. Upon graduation, she'll head to Utah's Rocky Vista University Medical School program.
Read more about the Wild and Scenic Film Festival's journey to Saint Martin's or follow the event's progression on Facebook. Tickets can be purchased online or at the door and questions about the event can be sent to Abigail.Limov@stmartin.edu.
Victorian philosopher Herbert Spencer once said that: "The great aim of education is not knowledge, but action." Thanks to nurturing schools like Saint Martin's, that aim is met—and exceeded—by dedicated students like Abigail.
Sponsored