The girl who initially joined the Boys & Girls Club was shy, withdrawn and focused almost entirely on her cell phone rather than interacting with others. But before long, through the mentorship of a club employee, the girl was able to break out of her shell. "She became a recognized leader within the club," says Boys & Girls Clubs of Thurston County Board President Sam Bovard. "As a sixth grader, she was inspiring kids two years older than she is."
During his 10 years on the board, Bovard has heard many such tales, and they never get old. At the annual Youth of the Year event, a club kid from each branch shares their experience as a Boys and Girls Club member with packed audience.  "Each story told exemplifies the experience kids have at the different clubs and each story is very inspiring"
Bovard also is a Vice President and Business Relationship Manager at Washington Business Bank, where two other members of the executive team have leadership positions with local non-profits as well – President and CEO Jon M. Jones is the board chair of South Sound YMCA and Vice President & Marketing Director Joanna West serves as Board Chair of the Thurston County Chamber of Commerce. Such direct involvement validates the bank's mission to help the community succeed, Bovard believes.
Bovard was first introduced to the Boys & Girls Clubs in 2007 by Dr. Kenneth J. Minnaert, former President of South Puget Sound Community College and board member at the time. He joined the board shortly thereafter and the experience since has been a revelation, he says. "It's provided me tremendous insight on the challenges kids face today and given me a greater appreciation for the hard work and dedication of the professionals in youth development. They are the unsung heroes in our communities. Their hard work helps prevent kids from falling prey to negative distractions such as drugs and disruptive behaviors, and helps them focus on making decisions that will help them grow into productive adults."
Director of Operations Shellica Trevino has known Bovard for years, but just began working directly with him in January. She quickly learned that he's always up for a challenge. "He's ready and willing to do whatever he can to help the clubs," she says. "His level of service is extremely high. Seeing a volunteer do the work that he does inspires me to do more."
Since he joined the board in 2008, the non-profit has added two new clubs: the Olympia branch at Jefferson Middle School, which opened in 2009, and the Tenino branch at Tenino Elementary School, which opened in 2016. From serving 1,900 kids per year 10 years ago, the organization now serves more than 3,000. Bovard played a central role in raising funds that went directly into operations, says Trevino. "We were able to mentor more kids because of the dollars raised through the Foundation for the Future Breakfast Committee."
For many years, Bovard was involved with the Youth of the Year (YOY) program at the state level. The program is designed to promote and recognize service to the club and community, academic performance, and contributions to family. He helped to secure funds for YOY while also functioning as a mentor for candidates, coaching them on strategies for interviews and public speaking. One year, he served as emcee at the Thurston County event. "He was quite excited," says Trevino. "Being able to do that in Thurston County was special to him after so long at the state level."
Not all board responsibilities are so enjoyable. Trevino credits Bovard for making tough decisions and motivating others to rise to challenges. "When it comes to financial decisions, he's always committed to doing what's right for the kids, regardless of the popular vote," she says. "He reminds others to keep kids at the forefront. We're only as good as the decisions we make for them."
When it comes to fundraising, the targets can be daunting, especially with an additional 1,100+ kids to serve every year. The annual breakfast event is the organization's largest fundraiser and Bovard has been a consistent leader on the organizing committee. "The goals for the amount we need to raise can be lofty and he had to inspire the other members to take on those challenges and not shy away," says Trevino.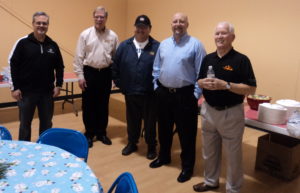 Another annual event is the clubs' Holiday Dinner, where volunteers serve between 200 and 300 Thurston County families. Every year, Bovard and his wife are among the first to sign up. "It's something he looks forward to," says Trevino. "We also have other board members that volunteer. That's pretty cool."
Ten years into his service with the clubs, Bovard believes their mission continues to be critical. "They're a great example of a community asset that pays it forward and helps kids stay out of trouble and avoid becoming a burden to society," he says. "Kids' lives are being saved or enhanced every day."
Learn more about Washington Business Bank or call 360-754-1945. For more information about Boys & Girls Clubs of Thurston County, visit BGCTC.org or call 360-956-0755.
Sponsored