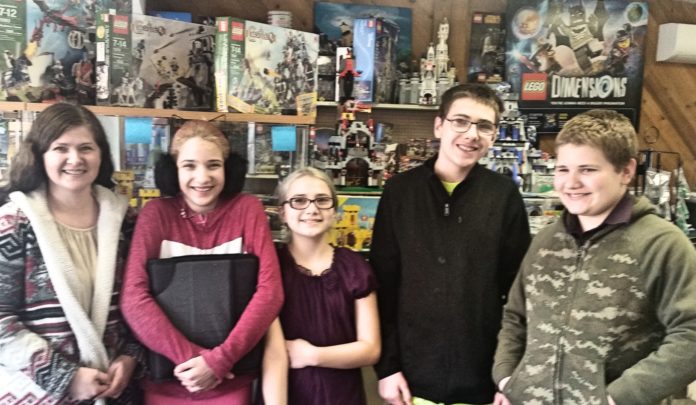 Step into The Brickhouse on Pacific Avenue and you are immediately awed by the universe of plastic LEGO bricks that greet you. The ubiquitous little yellow, blue and white bricks of early days have exploded into a galaxy of LEGO stars, with 60 colors that say unequivocally, "These are not your grandfather's LEGOs."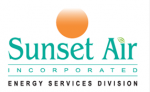 "I still remember my LEGO set when I was five-years-old," says Bryan Turner, now 42, who owns and runs the store with his son Jeff. He adds that his imagination just fit in with the building possibilities supplied by the set.
Imagination? The Brickhouse is imagination on steroids, a feast for the mind. Look in one direction, and there's a Saturn rocket, in another, a full-blown castle. Turn around, and the Star Wars Death Star is standing guard. Nearby, the 8,700-piece Ferris wheel is ready to twirl. The girl-themed LEGO Friends sets are in abundance, and thousands of loose LEGO bricks rest in big wooden boxes, waiting for builders to sift through for just the right piece necessary for his or her masterpiece.
The durable bricks include those that are pre-owned and loved as well as new LEGOs. People bring used bricks in for sale or trade and they turn them around for resale, Bryan says. It is a business model that is working well, and customers are pleased.
The demand and desire to build is huge. From a jumbo Saturn rocket down to a miniature Santa figure holding his red cup of cocoa and chocolate chip cookie, the LEGO universe is there for the creators, young and old.
"The detail in pieces today is just unbelievable," Jeff says. "Whatever you think is cool, LEGO's probably got it." From "Scooby-Doo" to "Doctor Who", LEGO sets come in a plethora of pop themes. And there are LEGO Creator sets for those who like to snap together their own designs.
Jennifer Moe and her four kids from Shelton recently discovered The Brickhouse and were enjoying their first visit earlier in the month. "It's so amazing what they have made over the years," says Jennifer, who sees building the LEGO sets as something the whole family can do. "I'm really willing to put money out for them." She adds that her son Jonathan can build anything he can see.
Like a kid in a candy store, Jonathan, 15, scans the store with awe. "They just have so much," he says.
The family dynamic is something Bryan and Jeff appreciate. Bryan grew up in Utah, joined the Army, and was stationed at Fort Lewis, before he retired from the service in 2015. For him, his ex-wife and three children, LEGOS provided a family activity. "We did a lot of building together," Bryan says.
After he retired, he and Jeff both had a desire to own and run their own business. They harnessed their passion and opened The Brickhouse in June 2015. Bryan describes himself as more the "front man," while Jeff oversees the business end, although he literally keeps his hand in the operation by building LEGO sets.
LEGO, A Brief History
Fun LEGO Facts
There are about 8O-plus LEGO bricks for each person in the world.
The plant in Denmark manufactures about 20 billion elements annually, about 35,000 per minute.
LEGO (both singular and plural) comes from the Danish words Leg godt meaning "playing well."
LEGO grew out of a company in Denmark started in the 1930s by Ole Kirk Kristiansen, using wooden figures. That original company failed, but evolved into the one we know today.
The first plastic bricks were produced in 1958. So precise is the measurement of each brick that a LEGO block from 1958 would still snap together with today's bricks. The LEGO Group still owns the business and has manufacturing plants in the United States and other countries.
"However big you think it is, it's way, way bigger," Bryan says of today's demand for the color building blocks. LEGO enthusiasts will literally comb through bins for three or four hours to find that one piece needed to for their masterpiece, he says.
In recent years, LEGO bricks have served as the building material for the robotics frenzy sweeping through schools. The familiar bricks kids grew up now help introduce the scientific world of programming and engineering in fun and non-threatening ways.  "Teachers are coming in here all the time for parts," Bryan says.
And kids start young. At The Brickhouse, a play area features bigger DUPLO bricks, providing toddler fun without the choking hazard.
While complex sets abound, Bryan said that the miniature figures are among their most popular items, recreating popular figures from blockbuster hits such as Star Wars, Harry Potter and Lord of the Rings, among others.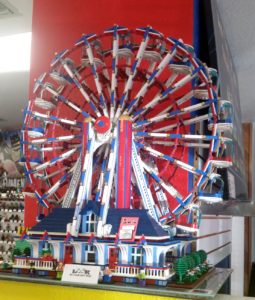 Almost three years into the business, both father and son say they love what they do. "This is not what I had envisioned myself doing," says Jeff, who earned an associate's degree in business from South Puget Sound Community College. "But it's been a lot of fun."
"I still love coming in here every time," says Bryan. "You can build anything!"
The Brickhouse
2747 Pacific Avenue SE, A-7, Lacey
360-628-8568
Monday – Saturday: 11:00 a.m. – 6:00 p.m.
Sunday: 12:30 p.m. – 5:00 p.m.
The Brickhouse Facebook