I step into Jeffery Shaw's restaurant, Sensational Cajun & BBQ, in Lacey and find a handwritten message on a whiteboard inviting me to order at the side window. To my left sits a number of tables with menus. A mural in the first stage of production is sketched on the wall, bringing together all things Louisiana – music, shrimp and an alligator. Shaw's nephew sketches away busily, adding details to the mural. At the window, I order the chicken and sausage gumbo and beignets.

My husband orders the chicken bites. "Did you really just order chicken nuggets?" I scoff, imagining the fast-food formed chunks that are available on practically every kids menu throughout the US.
"You'll see," he replies, a twinkle in his eye.
We sit down at one of the tables along with one of my husband's coworkers, a recruiter at the U.S. Army Recruiting Station in Lacey . She warns me that sometimes there can be a wait for the food. "It is basically a one-man shop," she says, "but the wait is well worth it." The Lacey recruiters love it when they have an opportunity to catch lunch at the nearby restaurant.
Shaw and his wife Sharon opened Sensational Cajun & BBQ in January of 2014, but the cooking began before that as a way to support their non-profit, Transferring Financial Success.
Transferring Financial Success helps youth gain financial and business skills and provides an opportunity to apply for scholarships available from the non-profit. Students attend after school or weekend classes to learn about finances, investing and post-secondary education. They also gain work and volunteer experience at Capital Lakefair. Every year at Lakefair, Shaw would cook and sell traditional Louisiana comfort food with the help of the students, first from a tent, then later from his mobile food trailer. His food became so popular, he and his wife decided to open a restaurant year round.
What began as an opportunity to support high school students get work and volunteer skills has transformed into a restaurant built on old fashioned word-of-mouth advertisement and satisfied customers. But before Shaw became a non-profit program manager and restaurateur, he had another career and another way to serve his community.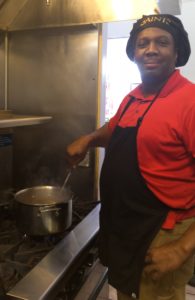 A combat veteran of the U.S. army, Shaw's career spanned two decades and three continents. Leaving his home state of Louisiana, Shaw worked for the Army in transportation in places like Kentucky, South Carolina, Germany, Korea and the Middle East, just to name a few. Sharon Shaw also served in the Army, working in administration. Shaw's last duty station was Fort Lewis, and they decided to stay in nearby Lacey. With all the places the military sent them, Louisiana was always close to their heart.  That shows in Shaw's cooking, which is a blend of Northern and Southern Louisiana styles.
Over the past four years, word of mouth has helped Shaw's business to grow. Customers enjoy his unique blend of flavors and the variety he brings to his recipes. Shaw often starts with the traditional base recipes you will find on the menu and then adds new ingredients, resulting in complexity and a departure from expectations. Some menu items like chicken and sausage gumbo start with simple ingredients, and Shaw elevates them with skill, seasoning and subtle heat. Other menu items are much more exotic like the gator bites or wild Cajun bowl, which incorporates elk and venison, mixing unexpected ingredients together. The shrimp is quite popular and recently the duck gumbo has been selling out.
"Offering simple and traditional comfort food is what we do," says Shaw.
Every year Shaw closes down his restaurant to return to Lakefair and the customers that fell in love with his cooking from the start. He also takes his mobile food unit to JBLM's Armed Forces Day in May and JBLM's Freedom Fest for the fourth of July.
After a short wait, our food arrives, fresh and hot. I look at my husband's basket and finally understand. The basket is filled with real pieces of chicken, hand breaded and seasoned, served with a house-made sauce. I know we will be coming back soon, so I can try the chicken bites, or maybe even something more exotic like the gator bites. I can't decide. His meal looks so good that I'm a little disappointed I ordered the gumbo, until I try it. Then I am amazed how Shaw puts the ingredients together in a skillful way to create layers of flavor. Like his regular customers, I am glad the army brought Jeffery Shaw to Lacey, Washington.
Sensational Cajun & BBQ is located at 9323 Martin Way E, Suite 108, in Olympia. Visit the restaurant's website to see the full menu or call them at 360-888-5814.