Just off Highway 101 on the road to the Griffin School District is an area known fondly as Steamboat Island. Once a sleepy intersection, this area is becoming a community hub for local residents and a destination for out-of-towners. One of the anchors of this new business district is Board & Brush. This creative DIY studio is a place to build farmhouse classic, inspirational pieces of décor for your home.
Have you seen adorable painted signs with family creeds or inspirational quotes hanging on walls in your favorite home décor magazines? You could go to the local hardware store and purchase several colors of paint, lots of wood, hardware, stencils, and tools and try this project at home. I would rather go to Board & Brush where they have all the supplies including hundreds of color combinations, multiple wood and stain choices along with instructors to guide you and they do the clean up!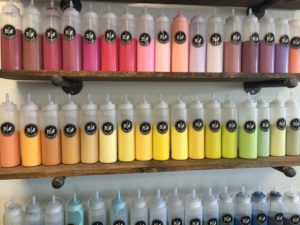 Jill Kindle has been a teacher and a coach in the Thurston County area for many years. She has always enjoyed building things and getting messy. On a family vacation in Sunriver, Oregon she visited a craft studio and had so much fun doing projects with her kids that they returned to do more. "We enjoyed ourselves and it was such a great family activity," shares Kindle. "I really felt that this would be a great business for Olympia families."
Kindle went back to the headquarters of Board & Brush, a Wisconsin-based business to learn about opening up her own franchise. The company is still relatively small and very family friendly. "I loved the founder and the mission of Board & Brush to bring people together to enjoy time and creativity," explains Kindle. The concept is simple. Sign up online for a day and time slot. There are 24 seats in the studio for any given time. There are several hundred products to choose from. You can come in with a friend, a whole group of friends or come by yourself and you are sure to make a friend while you are there.  The studio is light and beautiful with dozens of signs hanging on the walls around you for inspiration.
The first step is to choose the type of wood from several varieties available. The wood is all locally sourced from nearby Tanglewilde Lumber. Distressing tools range from hammers and screws to meat tenderizers. Crafters are encouraged to distress away, adding character to the project. "People really enjoy the distressing," shares Kindle laughing. "Sometimes I have to pry the distressing tools away from them!"
The wood is then stained with one of the many shades of wood stain available in the studio. The stain dries quickly so there is virtually no downtime but lights snacks and beverages are available for purchase at Board & Brush. Once the stain is dry it is time to paint and apply a sealing wax to the project. You do not have to be a crafter or have ever worked with tools before to enjoy this activity. "I love helping people who have never worked with tools before," shares Kindle. "It is fun to see them gain confidence and leave the studio with a project that they are proud of."
The finished products make great gifts for birthdays, housewarmings and are fun to make. Or, the act of creating a project can be the gift itself. Board & Brush is the perfect space to hold a child's birthday party, a gathering of friends or even a corporate event. There is a comfortable seating area for eating and drinking along with state of the art screens displaying music videos while you work. The atmosphere is fun and inspires creativity in all ages.
The studio itself is a work of art and a family project. "My Dad built all the tables," shares Kindle. Her friends and family have been hard at work creating all the signs hanging on the walls as examples. "There is no way that I would be here without them," she adds.
Kindle is excited about hosting a grand opening for the studio in the near future to invite the community to come and see the exciting and fun projects they can create. She also plans to give back by holding fundraisers for local non-profits and school auctions. As a long-time volunteer at a local shelter, Kindle understands the importance of supporting local charities. "We have plans to do an event for Raise for Rowyn and have already donated to several school auctions," she shares.
Plan your next event at Board & Brush and bring home a fun and classic décor item afterwards. Any ladies interested in a Monday Morning and Mimosas Workshop? Call me.
Board & Brush
6541 Sexton Drive
Building H Suite 101
Olympia WA 98502