Olympia has been home to many interesting and important Irish-Americans over the years. One of these is Rossell O'Brien. Sometimes called the "Father of the National Guard in Washington," he was an important figure in local politics and state military history. However, his musical legacy has largely been forgotten.
Rossell Galbraith O'Brien was born in Dublin, Ireland, on November 27, 1846 during the Irish Potato Famine. His family immigrated to the United States in 1853 and settled in Chicago. At 16-years-old, he joined the Ellsworth Zouaves (Governor's Guards) and later enlisted in Company D of the 134th Regiment of the Illinois Volunteers. After fighting in the Civil War, O'Brien continued to serve in the Illinois National Guard. He spent six years in the Governor's Guards while also working full time as a railroad freight clerk.
O'Brien's capabilities and political connections led him to be sent with newly appointed Washington Territorial Governor Edward S. Salomon to Olympia in July 1870. Salomon, a retired Union Brigadier General, was from Illinois as well. Arriving in Olympia, O'Brien served as Deputy Collector of Revenue for five years. He also acted as Chief Clerk of the Washington Territorial House of Representatives and as a clerk for the Territorial Supreme Court. In 1876, he was appointed a United States Commissioner, a post that he held for thirteen years. Also active in local politics, O'Brien was elected to the Olympia City Council for several terms and served as mayor from 1891-1892.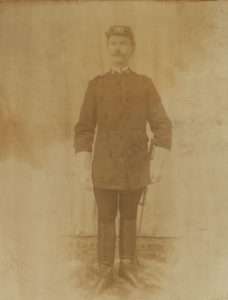 However, O'Brien's made more of a mark on the Washington National Guard. Appointed quartermaster of the Washington National Guard in 1878, he rose in the ranks to become a brigadier general. He even organized an Olympia unit called the Capitol Guards. O'Brien was appointed Adjutant General of Washington National Guard in 1884. As their commander in its formative years and when it transitioned from a territorial to a state organization in 1889, he was called the "Father" of the state's Guard even during his lifetime. O'Brien retired from the National Guard in 1895.
Through the Loyal Legion (a Civil War veterans organization), O'Brien is most famous for originating the idea of standing for the national anthem. Historians have discounted this popular claim, pointing out that other organizations and individuals had thought of the idea earlier.
However, O'Brien's legacy as a singer is less remembered. As recorded in the Washington West of the Cascades book (1917) he "was known for his fine tenor voice and musical ability."  O'Brien was involved in musical clubs and events. Perhaps his biggest claim to fame should be being the first person to sing the classic "Old Settler" song in a public concert. Written by Francis Henry of Olympia and set to the popular American folksong of "Rosin the Bow," the song is a humorous look at pioneer life written by a pioneer. Ivar's Acres of Clam's restaurant in Seattle later took its name from the last line of the song where the long-suffering storyteller is surrounded by "acres of clams."
The first performance of "The Old Settler" took place on April 2, 1877, at Tacoma Hall in Olympia (southwest corner of Columbia and Fourth Avenue). O'Brien sang the song at an Olympia Choral Society concert. He sang the song again a few days later on the 7th with the Olympic Dramatic Club in Columbia Hall, Olympia's then city hall. The Washington Standard newspaper, remarking about the concert, declared that "The piece fits Mr….O'Brian [sic], in his excellent make-up, to a T., and it would have a decided 'run' in other places besides Olympia."
O'Brien married Fanny Orlo Steele (1855-1932), the daughter of Dr. Arden Steele, in 1878. The couple had three children, Florence Blackler (1879-1883), Helen Kathleen (Aetzel) (1885-1946) and Rossell Lloyd (1886-1912).
After a busy political and military career, O'Brien later became involved in real estate, moving to San Francisco and later Oakland, California. He died February 8, 1914, a month after being struck by a street car during a business trip to Pasadena.
His family's stately two and a half story home in Olympia at 210 Union Avenue, was torn down in 1950.  In 1989, the site became Centennial Park. A tall coastal redwood, probably planted by O'Brien after business trips to California between 1899 and 1903, is at the center of the park. The tree is named the "Daniel J. Evans Tree" for the governor's environmental actions. No plaque marks O'Brien's connection to the spot. However, the Steele House, at 775 St. Helens Avenue, survives. It is his wife's childhood home and where the young couple lived while their house was being built.
With his many political, military and musical contributions to society, O'Brien is a great reminder of the importance of Irish-Americans in state and local history.