While rain, snow and frosty mornings may be stealing your attention for now, the reality is that warm summer days are nearly here. Don't be like my husband and I and waste those fleeting days planning backyard projects that inevitably end up getting pushed to the following year. Now is the best time to gear up for summer.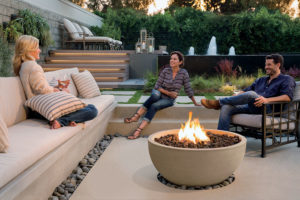 Locally owned Professional Stone Products has everything you need to transform your backyard into a fun, livable space. Outdoor kitchens, firepits and pavers for patios and walkways are three of their top selling summertime products. And although you may be able to find materials for these projects at other retailers, you won't be able to match the product quality or level of customer service that Professional Stone Products has to offer. They will be your first and last stop this year and all those to come.
Professional Stone Products knows that every project comes with a budget and a level of comfort for the homeowner. That is why they offer inventory that spans a range of price points and assembly options suitable for any level of backyard warrior.
Customizable and Affordable Outdoor Living Options
The Pacific Northwest graces us each summer with long days and warm nights.  Whether you are hosting a party, inviting over the neighbors, or just making dinner for the family, an outdoor kitchen is a great option to take in the fresh air, keep your house cool and give everyone plenty of space to stretch out and mingle.
Professional Stone Products offers both module and fully customizable kitchen units.  Module kitchens are a great fit for homeowners looking for convenience and affordability.  The modules serve as a template for your kitchen structure, but can be arranged into hundreds of design possibilities and can be cut to fit your fridge, barbeque, sink and whatever else you may need or desire.
Fully customizable kitchen options are more of an upfront investment, but the welded aluminum frames are guaranteed for life and they are specially designed and engineered to avoid warping, settling or sagging.
As the sun sets and dinner winds down, there is no better way to extend the evening than by socializing around the fire. Professional Stone Products can design your firepit to fit both your needs and style. They come in a variety of sizes and can be set up as regular wood burning, propane or gas. You can stick with a more traditional log design or fill the center with decorative glass. The most popular and affordable firepit option comes on a single pallet with all the materials you need and can be assembled by two people in about 30 minutes – it doesn't get easier than that!
Quality Stone Products for Outdoor Living Projects
No matter which summer project you pursue this year, you will find the best selection of both natural and manufactured stone at Professional Stone Products to give your finished piece the style and color you were hoping for.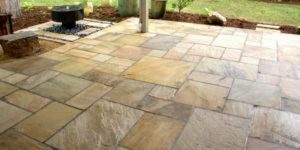 Owner Charles Grimmer explains the difference between natural and manufactured stone.
"Natural stone is a popular choice because the colors never fade, it's durable, and when used as a paver, provides a nonslip surface," he says. "Its size is customizable, which allows for maximum personalization. Many customers appreciate that it's a green product and requires little maintenance. The quality and beauty can be hard to match, but we do offer our customers the very best in man-made stone from Creative Mines. These natural stone replicas, are lightweight, super durable and are a more affordable option for those homeowners with a budget in mind."
For convenience and ease, Professional Stone Products even offers natural stone panels in over 70 styles making installation a more enjoyable experience, no matter your level of masonry expertise.
Professional Stone Products does not offer installation through their store, but they do connect customers with local masons to see you through every step of your summer project. Charles and his team are full of knowledge and experience. They are always ready to assist you with plan reading, designing color schemes to compliment your project or even sketching out your space on paper to define quantities needed. They love to go the extra mile when it comes to satisfying their customers.
The Professional Stone Products Difference
At Professional Stone Products you know you are getting the best because for Charles, this is his life.
"Professional is in our name because it is our driving force," he explains. "We have worked over the years to provide the best products, offer the best showroom and connect you with the best referrals. We strive to make every element of the customer service experience, from the first time you contact us to the first day you sit down to enjoy your new outdoor living space, one to remember."
Charles Grimmer offers over 20 years of trade and sales experience in the stone product industry. When you start planning your summer outdoor living space, remember that small companies, like Professional Stone Products, are able to meet your unique needs and give your project the attention it deserves.
Check out Professional Stone Products online or visit Charles and his team in person.
2621 Mottman Ct. SW Ste. F in Tumwater
360-489-0763
Monday-Friday 7:30 a.m. – 4:30 p.m.
Saturday 11:00 a.m. – 3:00 p.m.
Sponsored