You walk in, hand your keys to a mechanic, and walk back out. A few hours later, you get a phone call and pick up your freshly tuned car. How many of us know what happens behind the scenes when we take our car in for a tune-up or repair? What does your car look like underneath for a mechanic? Our next segment of Employees Only takes us into one of Olympia's favorite local auto shops, Bron's Automotive, for a visual tour.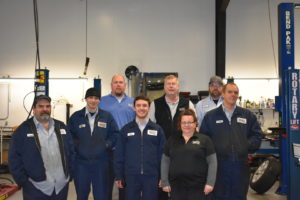 Back in 2002, Bron Lindgren decided to jump into his own automotive effort and opened Bron's Automotive after working for various auto shops and car dealerships. Since then, the local shop has continued to receive praise for its top-notch customer service, desire to serve their local community and a kind, talented staff that is passionate about keeping vehicles running smoothly.
When we think of "software upgrades" and technology evolving, we tend to think of our phones, tablets and laptops. Very few people know their cars also occasionally need software upgrades. This is also sometimes the last step in the correct repair of an engine or transmission issue. This is a service Bron's can perform on all makes and models, including European vehicles. Other highlights of Bron's Automotive include their more eco-friendly "smart clean" machine that uses microbes to clean oil from auto parts, their courtesy shuttle for customers and typically lower prices than you would get at your dealership.
To learn more about Bron's Automotive, visit their website here or read more of ThursonTalk's coverage of the shop.
Bron's Automotive Inc.
1025 Black Lake Blvd SW #2B
Olympia, WA
Monday-Friday 7:30 a.m. – 5:00 p.m.
360-943-5993