Returning to school later in life or starting college as an adult can often be a challenging experience, especially if students find they have a lot of life experience that might not translate into degree-seeking credits at most schools. The Evergreen State College's learning community is made up of a diverse group of students, with many coming to the school after years of community involvement or work experience. To make getting a degree more accessible for all, the college's Prior Learning from Experience (PLE) program exists to give credit for learning that students do outside the classroom.
Earning credit through PLE can be an effective way to jump start or continue a college education, integrate prior life experience and have the value of intellectual experience gained outside of a college environment validated.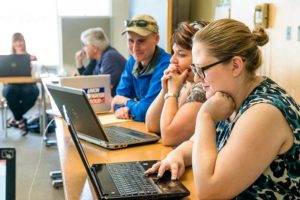 Students aiming to translate prior college learning into credit start their journey with the prerequisite program Writing from Life, a four-credit course taught by faculty member Nancy Parkes. In Writing from Life, students begin the process of learning to effectively document their past experiences, and show how they are equivalent to college learning. The program also allows students pursuing PLE credit to connect with each of the faculty involved with the program. Writing from Life is also open to students who wish to develop their autobiographical writing skills who do not plan on continuing on to PLE.
After completing Writing from Life, students may go on to enroll in PLE Document Writing. This program guides and supports students through the process of documenting their prior experience. They create a portfolio of essays, research and supporting materials that showcase their prior learning and explain what makes it college equivalent. This written work created in PLE Document Writing goes on to be evaluated by faculty, and serves as the documentation upon which credit is awarded for prior experience.
Each PLE document is worth up to 10 credits, and students can submit up to three documents. When credit is gained through PLE, students pay a fee of $651 (per 10-credit document) for the assessment of their credit. This costs approximately one-third the amount that regular tuition does, making it not only a faster way to earn credit, but a more affordable method as well.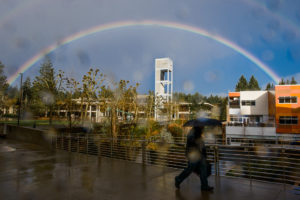 Students come in to PLE with a wide range of experiences, ranging from grant writing and nonprofit management to playing professional golf and coaching. One PLE student, Kim Monroe, shares that she was never supported in pursuing higher education in her youth. She went directly into the workplace, and through hard work and determination, advanced to a position as a human relations manager for the Washington State Department of Transportation. While her career was fulfilling, enriching and highly educational, getting a college degree had always been a desire of hers. The ability to integrate the leadership and communication skills she had already learned through her time in the workforce into her college education helped Kim see pursuing a degree as an accessible, logical choice. Now enrolled in PLE, Kim hopes that achieving her bachelor's degree will allow her to engage in areas outside of her direct career path.
"Having the opportunity to reflect upon and document my professional and volunteer service throughout my life for college credit is a powerful experience," says Deana Kyle, another PLE student. "Many of us do not realize how much knowledge we actually have even without a degree. Yet without a degree, we often are unable to reach the definition of personal success. We may find ourselves stigmatized without a college education." Deana works as licensed training provider for the American Red Cross, and owns a small training business. She is also a barber and barber instructor, having taught at both private and technical colleges. Her work experience has given her college equivalent knowledge in communication and business. Deana came to Evergreen planning on attaining a degree in business. Since her time in PLE, she has also felt inspired to become a tutor for fellow students and hopes eventually become an educator.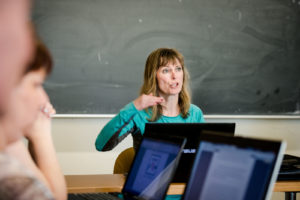 The PLE program is led by faculty member Nancy Parkes. Before coming to work at Evergreen, Nancy worked as an investigative journalist, and continued on to government work in Washington DC. Despite the invaluable work she was doing there, Nancy realized that her passion was in writing, and transitioned to Evergreen to teach writing and public policy, along with managing the PLE program. "Truly, this is the most rewarding teaching I've done in 20 years," she says.
Evergreen's PLE program enables students with prior learning to document their experiences and translate them into credit, incorporating their learning that took place outside of the classroom into their degree. If you are interested in joining Evergreen's PLE program or learning more, information can be found on their website. To see the result of PLE, simply look around you. PLE has empowered countless non-traditional students and those with previously attained skills to pursue higher education, and go on to further enrich our community.
Sponsored