When Alex Pribble was named head coach of the Saint Martin's University men's basketball team three seasons ago, the hope among the Saints' faithful was he'd be able to get the program to .500 within a couple of seasons.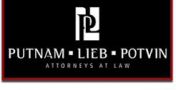 To say Pribble and his squad have far surpassed expectations would be an understatement.
For the second consecutive season, the Saints are headed to the Great Northwest Athletic Conference basketball tournament as they wrapped up the No. 3 seed with a victory over Central Washington University in their season finale.
SMU, which surpassed the 20-win mark for the first time since 2009 this year, will take a five-game winning streak and an impressive 22-6 record into the Alaska Airlines Center in Anchorage on March 1 when they meet sixth-seeded Central Washington.
Tipoff is scheduled noon with the winner advancing to play No. 2 Western Washington University on March 2 in the semifinals. The GNAC championship will be held on March 3.
"I'm really proud of this team. It's been a long year in the sense that every day these guys have worked to find ways to improve and to come together as a team," said Pribble, who is 54-32 during his three seasons at Saint Martin's. "They're communicating. They're getting better. There's a lot of fun things happening on the court and I am proud of these guys."
Western Oregon, the only school to beat SMU twice this season, will be the top seed in the GNAC tournament for a third time over the last four years. The Wolves finished the regular season with a 27-1 record, including a 19-1 mark in the GNAC. Western Washington (21-7 overall, 16-4 GNAC) is the No. 2 seed. Both teams will receive first-round byes.
Saint Martin's, which was the No. 4 seed last year when the Saints advanced to the semifinals, has won 12 out of its last 13 games, including a 75-68 victory over the Wildcats on February 24 in Lacey. Luke Chavez, SMU's leading scorer this season at 16 points a game, paced the offense against CWU, scoring 19 points. Matt Dahlen, the only senior on the Saints' roster, added 16 points in the win, while E.J. Boyce scored 11.
Pribble's team is 2-0 this season against Central Washington as they also enjoyed an 80-75 win in Ellensburg on November 30 in the Saints' GNAC opener. Chavez led SMU offensively in that game as well, going off for 30 points.
"They move the ball and make the extra pass, the hockey assist a lot of the times," said Pribble about his team's play on the court. "It's fun to watch. It's a fun to coach and I think these guys think it's a fun style to play. They are truly proud of each when their teammates are making buckets and I think that's a good sign for the future."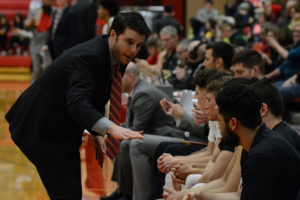 The turnaround for Saint Martin's in such a short time has been remarkable. Pribble and his staff inherited a 6-22 team three years ago – one that had never advanced to the GNAC tournament despite playing host to the event for five seasons.
Last year, the Saints finished with a 17-13 record and defeated fifth-ranked Concordia, 78-73, in the quarterfinals to notch the program's first ever GNAC tournament victory before losing to top-seeded Western Washington University, 91-79, in the semifinals.
"We had a vision to build this thing. We're really happy with the process we've made so far," Pribble said, "but we are really focused on this year and I think as we head into the conference basketball tournament we're fighting for an NCAA tournament berth."
SMU is currently ranked eighth in the NCAA Division II West rankings. The top eight ranked teams from the eight divisions receive berths to the national tournament.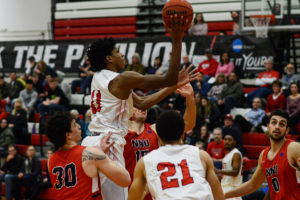 Western Oregon holds the top spot in the West rankings, following by California Baptist (21-4), Cal Poly Pomona (18-5), Dixie State (17-6), UC San Diego (17-9), Point Loma (19-7), Chico State (17-6) and Saint Martin's.
One victory at the GNAC tournament should be enough for the Saints to receive a bid, two wins would almost make it a lock, while a championship secures an automatic trip.
Selections for the NCAA Division II tournament will be revealed on March 4.
The Saints already received some post-season recognition after landing three players on the GNAC's All-Academic team. The trio includes juniors Rhett Baerlocher (3.57 GPA) and Kazuma Lane (3.22) and sophomore Cameron Chatwin, who was one of 16 repeat selections after posting a 3.74 grade point average.