Submitted by Les Eldridge for Olympia Harbor Days Tugboat Races and Festival
R. W. CONFER was built in 1930 in Portland, Oregon, by Albina Shipyards, Engine and Machine Works (founded 1900). Albina was later sold to Dillingham Ship repair. CONFER's hull is an unusual design, unique to the Pacific Northwest towing community. It is a "tunnel hull," with the outer parts of the hull bottom lower than the middle, for rudder protection. Albina shipyards specialized in the construction design and fabrication of tunnel hulls. The design also may provide the advantages of the European "hydro conic" hull design, ensuring maximum water flow around the propeller with the result of uniform wake and reduction of turbulence.  This enables a larger propeller to be fitted and increases propeller efficiency, raising bollard pull by as much as 30%.  It also increases ability to maintain speed in rough seas.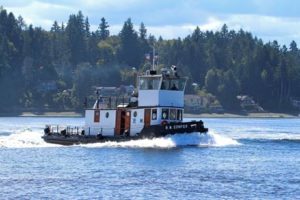 She towed logs on the Columbia River for 70 years, working for Tidewater Tug and Barge, and for Camas and Wauna paper mills.  Western Transportation Company was her corporate owner, and she was christened October 13, 1930 by Roma Maxine Confer, 19-year-old daughter of R.W. Confer, Operating Manager of Western Transportation Company.
In 1998, the CONFER was due to be scrapped, but instead was purchased by Rex and Tana Hasart in 2000.  She is currently home-ported in Seattle's Ballard District, near the Hiram Chittenden Locks.
Rex and Tana are widely recognized for their strong commitment to the International Retired Tugboat Association (IRTA).  Under Rex's guidance, the Hasarts have aided 30 different community charities with fundraising assistance.  The Hasarts have hosted many an IRTA potluck in different anchorages in Puget Sound.  Their outgoing personalities has led to their unofficial role at Olympia Harbor Days of new-boat greeters, making sure boats are properly and seamlessly rafted up and able to accept thousands of visitors.  The Hasarts also provide advice on race protocols and scheduling to those new to the races and festival.  The CONFER is always a center of renewed friendships and cleverly-spun yarns.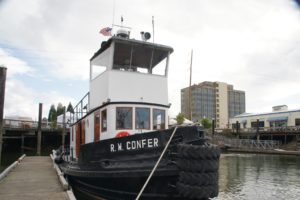 R.W. CONFER is 61 feet in length with a 15 foot beam and she draws 4 ½ feet.  Her original engine was an Atlas Imperial Diesel.  She's now on her third engine, a 3412 Caterpillar Diesel of 450 horsepower.  To quote Rex, "…her restoration is never finished."  Rex has installed self-cooling pipes at the bottom of the hull, so all water aboard is self-contained and reusable to increase live-aboard capability and address environmental commitments.
R. W. CONFER was chosen as the 2006 logo tug for the Olympia Harbor Days (OHD) festival and tug races.  She is a frequent participant in OHD races, in the "Over 400 HP" category.  Often a second place finisher behind more powerful boats, and in 2017 she took first place in the "Large Tug" race.  OHD looks forward to many more years of Hasart participation aboard R.W. CONFER.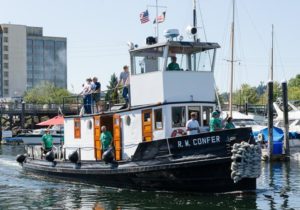 About Les Eldridge
Les is president of the South Sound Maritime Heritage Association and author of a number of maritime histories, a series of novels on the American Civil War at sea, and a book of humorous verse.  He lectures frequently ashore and afloat, and narrates the OHD races each year.  For more, see EldridgeSeaSaga.com.
Tug of the Month is sponsored by Olympia Harbor Days Tug Boat Races and Festival, an Olympia Kiwanis Club event free to the community.  It takes place every Labor Day weekend on the Olympia waterfront.  It is in its 45th year. For attendance information, see www.HarborDays.com, or on Facebook at Olympia Harbor Days.  Questions to Executive Director Carol Riley at info@harbordays.com.
Sources 
Tugs, Towboats and Towing by Edward M. Brady, Cornell Maritime Press, 1967, interview with Rex Hasart, 2017.
Tugboats and the Sea by Robert D. Peck, 2017.
Interview with Bob Peck, 2016.
Tugboats on Puget Sound by Chuck Fowler and Capt. Mark Freeman, Arcadia Publishing, 2009.