Childhood memories are funny, we don't remember everything and some things we remember better than others. "If you think about elementary school, what do you remember?" asks Get Outside Olympia founder Perri Rae Davis. For me, it was the field trips and time spent exploring outdoors. For kids enrolled in Get Outside's day camps, they get just that.

This is Get Outside Olympia's third year running their outdoor based camps, and they have an exciting agenda already planned for spring break 2018, from April 2 to 6. Spring break camp includes trips to the WET Science Center, Garden Raised Bounty (GRuB) the Procession community art studio, as well as a restoration project at Priest Point Park. The camp is open to children ages six to twelve.
In the summer, Perri runs the camps with the support of her brother, Sammy Davis. "He and I grew up in summer camps and after school care. When we were kids, this is what we wanted: lots of fun field trips and just flexibility to take a step back and be a kid and play," she says. "Kids are all at different levels but one thing they have in common is they love to play."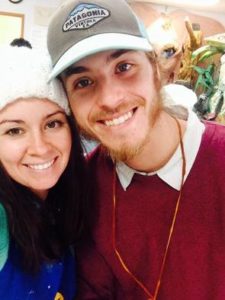 The camps have a 50/50 approach to play and learning. "We're grounded in specific values of being environmental stewards, and being very community based. Then there's this whole other 50 percent that's kid driven," Perri explains.
Perri designs the activities towards the children's individual age and interests. "I have the kids do a survey. So, before they even come to camp, I can get an idea of what they're interested in."
A typical day at camp starts with a flexible check-in time to fit the schedules of working parents. The kids can play or create an art project until everyone arrives. Then they gather for a morning circle-up, where the focus is on safety as well as forming a "community agreement." The children can express ideas, concerns, or just basic need-to-knows before they start their day.
Then they engage in getting-to-know-you or team building exercises, followed by a snack, before heading out on their first adventure for the day. Groups head to the beach, the park, the forest. Each week has a different theme.
In the afternoons, campers have lunch and rest time. Then, it's time for active games, music, and art projects. At the end of the week, they have a celebration for parents and campers with food, stories, and share-outs.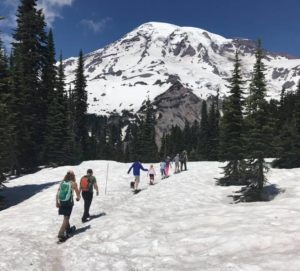 In the summer, Get Outside partners with the Thurston Conservation District for a week of Adventure Camp. "Last year we went snowshoeing at Mt. Rainier, hiking in the Olympic National Forest, and birding at Nisqually," shares Perri. The campers certainly get to experience a lot.
"I want to figure out what their boundary is and I want to give them the confidence and the tools to surpass that and to get to that next level," Perri says of the kids. "Because, confidence goes such a long way for kids, for school work too. We may just be playing outside, but the things that we do and the fears they conquer help them in the classroom and help them with their learning."
Before she started Get Outside Olympia, Perri was working as an AmeriCorps program developer for South Sound Green. At the same time, she also started the Prairies and Pollinators Project, a hands-on education program she runs each spring for second graders in the North Thurston Public Schools.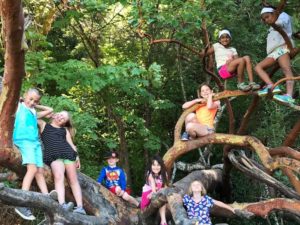 But her inspiration came before that, when she attended the Natural Leaders Legacy Camp in 2015 which trains educators and leaders on how to get kids outside in different ways. Now, she is certified as a "Natural Leader," and has lead trainings for a regional network. She didn't know it yet, but even as a teen in California, teaching kids to surf, Perri was already a natural leader.
Perri graduated from The Evergreen State College where she studied business and education. That, and an extensive background working with youth, led her to where she is now; leading local kids through Get Outside.
"I treat the kids like I would treat my own kids, keeping them safe and nurturing them," says Perri, now as a mom of two who knows what it's like to be a busy parent.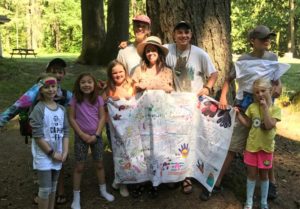 "I wake up on Monday morning and I'm so overwhelmed but so happy," she says.  "I'm so excited that it's Monday and that I have this huge to do list of things that get kids outside and makes them happy, and that makes me happy."
Get Outside Olympia is open to working with volunteers and other community groups who share a similar mission and focus on getting kids engaged in the natural world. They also offer customized Nature Birthday parties.
More information and to register for Spring Break or Summer camps, visit Get Outside Olympia online.
Thrifty Thurston highlights inexpensive family fun in Thurston County. The weekly series focuses on family-friendly activities throughout our community. If you have a suggestion for a post, send us a note at submit@thurstontalk.com. For more events and to learn what's happening in Olympia, Lacey, Tumwater and the surrounding area, visit our complete events calendar.