Sitting down for coffee with Brynn Johnson is like meeting up with an old friend. She's bubbly, friendly, full of smiles and overall radiates happiness. It's hard to believe just a few short years ago this positive radiant woman was going through a parent's worst nightmare, the loss of a child. A grief, she explains, runs so deep that it's nearly impossible to get up in the morning and keep living. Something most parents don't want to ever experience.
However, Brynn took this life-changing pain and turned it into something beautiful, a non-profit called Raise for Rowyn, founded and named after the daughter she and her husband lost.
"She was 17 months old when she passed in a tragic accident and we had a lot of community support. Financial, emotional, everything. At the lowest point in my entire life, it was such a humbling experience to see the entire community come together and give back," she shares. The last thing Brynn's family needed to worry about was funeral expenses as they were just trying to get through each day. "Just that tragic loss shook our little town and honestly it feels like it brought us all closer. I feel very blessed because I see people in bigger cities or who don't have a great support system how much harder it is to go through something like this."
What resulted was a non-profit designed to take the financial burden off of families experiencing a similar loss of a child. In the beginning, they started small actually looking for families to help.
"It is a roller coaster. I'm not going to hide that part of it. The first year was definitely a blur because I was so consumed by my grief so I really couldn't focus on anything else. I don't even know how I did it. But I really felt like it was God's will." Fast forward three years, where Raise for Rowyn has now helped almost 200 families with not only funeral expenses, but counseling services, and really just being a friend who knows what they are going through. Brynn explains, "Parts of it just suck, I'm not going to lie, but it's nice to be able to be there for other families. And in turn they are being there for me because we understand each other. They probably don't realize how much they are helping me out in the process."
Because Raise for Rowyn is so unique, the non-profit doesn't just operate here in Olympia. They are a national organization that has helped grieving families as far away as New York and Florida, although their main focus is still here in the Northwest. "I've really tried to keep the organization in a positive light. Yes, it's a difficult thing, but I don't want to focus on that. I want to help lift people's spirit and faith. Be able to show them there can be a light at the end of the tunnel."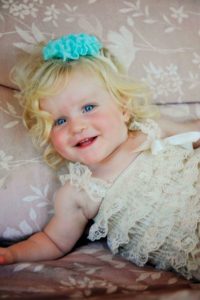 That light is that things do get better, they do get a little easier. Brynn tells me one of the hardest things to process is when it feels like people start forgetting about the child you've lost, so now Raise for Rowyn sends cards twice a year to all the families they've worked with. "I connect with these parents on a regular basis every day in whatever way I can. It's just nice to let these families know we are always thinking about them," she adds.
Brynn says everyday she feels like Rowyn in heaven is guiding her in the direction she needs to be moving and where to take the non-profit next. Recently, she decided to devote herself to the organization full-time and help to grow something that is so greatly needed. What she says they need now is something just about anyone can do. "We are always looking for volunteers. We do a lot of different events. Unfortunately, we pay out a lot of money because funerals aren't cheap."
Coming up in April the group will host their biggest fundraising event of the year at Little Creek Casino and Resort. It will include a dinner hosted by one of their large donors, SMEAD Capital Management out of Seattle, and feature both live and silent auctions. You can still get involved by attending, donating items or sponsoring a portion of the evening. Brynn says it's a great opportunity to come out and get to know their non-profit. "We are still trying to get information about us out there because there are a lot of people who don't know what we do."
What Brynn will continue to do is get up every morning and look at her two beautiful children at home and send love to her daughter in heaven and know it's going to be ok. Then she'll go into the office and find another family she can help in Rowyn's memory. "I have hard days and then I have amazing days. And the amazing days are now more frequent than the hard days, which has been great. I look at this organization and am just cannot believe how far it's come in such a short time."
If you or someone you know are coping with the loss of a loved one contact Raise for Rowyn on their website or Facebook page.