As the town of Lacey bustled around in the warm winter sunshine, our CommunityTalker needed a midday pick-me-up and stopped by Lacey Forza Bistro and Event Center (previously Forrey's Forza).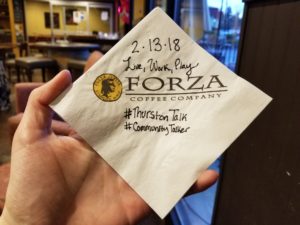 Valentine's Day cupcakes from Miss Moffett's Mystical Cupcakes, coconut chicken curry soup and excitement from the recent changes at Forza filled the local go-to for coffee and community. Ryan Lindstrom (PugetSound2Go) and Rachel Young (Miss Moffett's Mystical Cupcakes) officially became the new owners of the bistro on February 1, 2018.
"I think what gets me excited about the changes is already seeing where are we going," said Paula Lake, team member at Lacey Forza. "Our opportunities are honestly endless. Everyday we come in and it's exciting to see what's new and what's being added to what we are offering while maintaining that place where people want to come and meet."
Even in the short time that ThurstonTalk was at Lacey Forza, customers continued to come in and exclaim their excitement about the ability to grab their favorite Miss Moffett's macaroons without traveling out of Hawks Prairie or how they love the new paint job inside the event center. We can't wait to see what else is in store at Lacey Forza, but for now, we have a delicious cupcake to finish devouring.
Read more from ThurstonTalk on the recent changes to Lacey Forza and don't forget to consider them for your next meeting, trivia night or coffee date.
Lacey Forza Bistro and Event Center
130 Marvin Rd SE
Lacey, WA 98503