Some people dream while others actually live their dreams. Colleen Welch is a dreamer and a doer.

Colleen belongs to an unique, elite group of international adventurers, informally called Women on Wheels (WOW), who travel solo by bicycle worldwide.
Her blog, Super Biker Woman, chronicles some of her more recent bicycling excursions over hill and dale (since 2008). By the way, she didn't create her blog name. Her friend's four-year-old son named her that.  (He was "Super Cowboy.")
"I enjoy the freedom to see the world at a pedal power pace," sums up Colleen.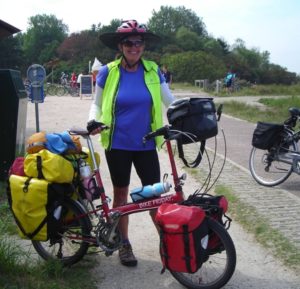 Colleen's mode of travel usually involves sleeping in a tent and carrying everything she needs on her bicycle while touring very long distances. Sometimes Colleen's trips last a month or more and can include side tourist activities for fun. She has biked 24 states and 13 countries. In March, she is leaving on a four-month, 4200-mile trip to Australia.
"I'm excited to see the unique wildlife – kangaroos and quokka – but not any snakes," says our brave adventurer.
Depending on the trip location and terrain, Colleen selects which of her six bicycles will perform the best. For Australia, her Tilmann is the lucky winner.
"The bike essentially breaks in half and fits into a regulation-size case for the airlines," explains Colleen. "It has to be completely taken apart. I even remove the brake disc rotors, so they don't get bent. When I practice, it takes me one hour and 45 minutes to get it packed into the suitcase and about an hour to assemble it."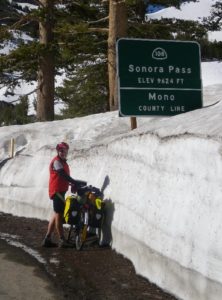 International bike touring is not for the faint-hearted. Only determined Renaissance Women dare spend weeks and months biking alone across deserts, over mountain tops, and through jungles. When Colleen crashes, gets the flu or eats something that upsets her stomach, as an RN she knows what to do.
Just like the first woman to bike around the world in 1895, Annie Londonderry, Colleen is married with children, living a seemingly normal life in Lacey except she bicycles to the grocery store, to medical appointments – no matter the weather.
"I ride everywhere around here," says Colleen. "I ride south a lot because you can go a long ways, and there are a lot of rural roads. I've ridden west to the ocean and back in a day more than once. I ride north, but that gets into the metro areas and is a different type of riding."
Colleen started riding in 2005 in the Seattle-to-Portland (STP). After five years of riding the STP and participating in several fundraising rides throughout Thurston County and the South Sound, she was on a roll (pardon the pun).
Colleen's focus changed from supported rides (i.e. rides with rest stops, someone carries your gear, food is provided and they often involve fundraisers) to a long-distance group and then solo (i.e. self-contained) bike touring. Colleen eventually joined Capital Bicycling Club and toured the Olympic Peninsula with friends.
"I started thinking about bike touring when I saw an ad for a bike tour called Lord of the Chain Rings, and it took place in New Zealand," smiles Colleen. "I was 44-years-old, and I had decided that was how I would celebrate my 50th birthday. I had a bit of time to plan and six years to save up."
Then at 51-years-old, Colleen started bike racing on a team for Olympia Orthopedic Associates and spent the next four years flying on her bike and landing third place in a master's championship. She then turned back to solo, long-distance riding.
Colleen spoke to the Capital Bicycling Club last October about her 4300-mile tour last summer from Minnesota to Maine, up into Canada, and back to Minnesota. She hopes to speak again after her trip to Australia.
"I want to inspire more people to do the long rides," says Colleen.
Solo, long-distance riders need some basic skills such as being organized, flexible, resourceful, determined, physically fit, mechanically minded and good at trouble-shooting.
"All of that helps," says Colleen. "There are people who tour that can't read their way out of a paper bag," she laughs. "You can use a GPS. You need common sense, confidence and flexibility."
"Camping is very cheap or free if I'm being hosted by someone," explains Colleen. "The actual touring is not expensive. I try to stick to a budget of about $35.00 a day, but I could tour on less than that."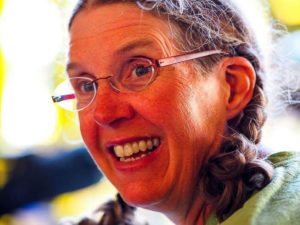 As an ambassador for her favorite bike store, Joy Ride Bicycles, Colleen leads night rides on the Chehalis and Woodland trails and guides beginning road rides.
Colleen plans to keep touring for years to come.
"As I get older, I can decrease my daily mileage," says Colleen. "I will use whatever I need – maybe an e-bike or a tadpole."
Colleen's motto could be this: "Oh, the places you'll go!" said Dr. Suess.
Colleen recommends these books: