The State Capitol Campus in Olympia is home to many monuments and memorials commemorating everything from wars to individuals. In addition, some of the trees on campus are dedicated to people and events. There is even the "Moon Tree" which went into space as a seed.
George Bush

, Tumwater's noted African-American pioneer, is also honored with a tree on the State Capitol Campus. Located on the West Campus near the World War II Memorial and across from the new Helen Sommers Building, the tree is a sapling from the historic butternut tree still located on the old Bush homestead in Bush Prairie.
George Bush was a true pioneer of Thurston County, though relatively little is known about him. Sometimes he is identified as George Washington Bush, but most historians believe that he was known as George Bush during his lifetime. He was born to a sailor from the West Indies and a white servant woman in Pennsylvania, around 1790. Bush possibly served in the War of 1812. He became a farmer in Missouri and married Isabella James in 1831.  Restrictive racial policies and a difficult climate led the Bush family to seek opportunity in the West.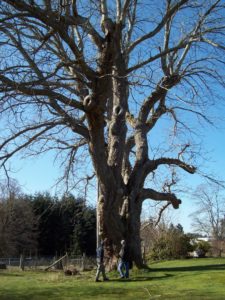 Joining a wagon train led by Michael T. Simmons in 1844, Bush became one of its leaders. After crossing the country on the Oregon Trail, the group settled north of the Columbia River. Oregon Territory made Bush unwelcome with its restrictive "Whipping Post Law," which required that any African-Americans living in the region be publically flogged every few months. Although never enforced, it was intended to deter settlement of African-Americans in the territory. The Bush-Simmons party went north to the sparsely populated area that would become Washington territory, where the law would clearly not be enforced. These pioneers formed a community at the mouth of the Deschutes River in 1845, naming it New Market. Later the town was renamed Tumwater.
George and Isabella Bush settled on what became known as Bush Prairie near what is now the Olympia Regional Airport. Barred from claiming land under the Donation Land Claim Act of 1850 because of his race, Bush's friends successfully petitioned Congress to pass a special law granting him his homestead in 1855. However, he still faced much discrimination and was never allowed to vote.
The Bush homestead grew to be a prosperous farm and George was widely regarded as a kind and generous man, especially to the new emigrants. Many of them arrived in an impoverished condition and were unable to pay for Bush's hospitality and assistance. George died in 1863 and Isabella passed away three years later.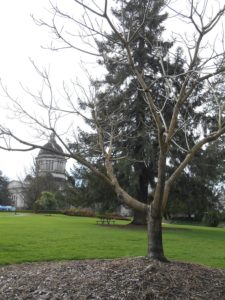 With George Bush being increasingly recognized as an important historical figure since the Civil Rights Movement of the 1960s, many people have been moved to honor him. There is an interpretive kiosk at 83rd Avenue SW and Old Hwy 99, near his original homestead. The Bush homestead has been the site of an archeological dig by the Evergreen State College. It lies on the Bush Prairie Farm, a Community Supported Agriculture (CSA) business. The original Bush buildings are long gone, but one prominent remnant of the past is a butternut tree (Juglans cinerea) believed to be planted by Bush with seeds carried over the Oregon Trail.
Once common in the eastern United States and southeastern Canada, this type of giant walnut tree is a threatened species due to disease and genetic cross-mingling with non-native European butternut trees. The Bush butternut tree, at over 170 years old, is believed by scientists to be the oldest living butternut tree in North America. It was badly damaged in an August 2015 wind storm, but professional arborists have nurtured the tree back to health. Part of the downed wood was used by a flute maker from Arizona.
Seedlings grown from the tree's edible nuts have been planted at several locations. One is in Fort Borst Park in Centralia (planted 2017) to honor Bush and the city's African-American founder George Washington. Another sapling was planted in Pullman at Washington State University in 2014. George's son William Owen Bush, an award-winning farmer who served in the Washington State Legislature, introduced the bill to create the college in 1890.
After years of lobbying by local historians and activists, a Bush butternut sapling was planted on the State Capitol Campus in the spring of 2009. It died a year later and another was planted in the fall of 2010. The current tree is doing well and professional arborists continue to nurture it to ensure its grow for decades to come.
The George Bush Butternut Tree on the campus is easily accessible to visitors. This tree remains a living reminder of how diverse peoples have contributed to the making of Washington State and it one of the few such memorials in the area. It is a fitting honor for George Bush, a generous farmer and true pioneer.
The author wishes to thank Marygrace Goddu (Washington State Department of Enterprise Services Cultural Manager) for information and pictures for this article.