W
hen 
Lynch Creek Farms
 began operations in 1980, the owners were just a young family starting a hobby farm for their three boys. In 1998 Andy Hunter, the youngest son, took the reins and alongside Marianne (his first employee) and a pig named Henry, they forged ahead.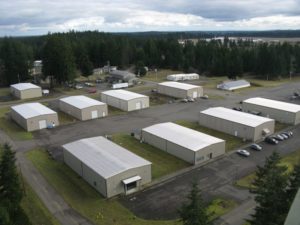 Since then, demand for their wreaths, garlands, and holiday greens has grown exponentially. "The business has gone from myself and Marianne making wreaths in the barn with Henry to 350 of us this year," says Hunter. "We started in an old hangar at the Port of Shelton and now we're in a mill site where Simpson was making lumber five years ago. The Port has converted it into the best use for us."
Lynch Creek is one of many businesses operating on Port property, which includes a cumulative 1,500 acres in three sections with amenities that make it inviting for industrial and e-retail companies. The three main sections are: the airport, the marina and the industrial properties that house businesses like the Hunter's.
"The airport is really our main hub," says executive director Wendy Smith. "We have close to 30 industrial tenants that lease land and buildings there, plus the hangars that we lease."
Tenants on the airport property tend to offer manufacturing jobs that pay a family wage, she notes. "We're looking for startup companies that can expand either on or off Port property. We have the infrastructure that makes it affordable because we already have gas lines and water and those kinds of things."
Businesses located at the airport range from Fungi Perfecti, a company specializing in organic mushrooms and mushroom-related products, to Limbsaver/Sims Vibration Laboratory, which offers stabilizing devices for rifles and hunting equipment. Due to the size of the Port's buildings, some tenants have leased multiple structures, an issue Smith would like to see change. "It's not ideal for them or us, but it's something that we work with," she says. "In the future, we'd like to create buildings that can house these tenants in one place and free up some of the smaller facilities."
As for the airport itself, the Port leases hangars to both local and out-of-town pilots. "Our rates are quite competitive," says Smith. The former airstrip includes a crosswind runway that is no longer used for air operation. Instead, car clubs and the State Patrol use it for events and training, and the annual Oyster Fest has been held there for the past several years.
The marina is the smallest part of the Port's operations, containing 100 public berths with month-to-month moorage agreements. One unique feature: boathouses. "Many marinas around the state have gotten away from boathouses, but we made the decision to keep them intact," says Smith. The Port will not be adding any new ones and required boathouse owners to upgrade last year to meet more stringent standards.
Commercial FLUPSYs, or Floating Upweller Systems that use floatation devices to grow shellfish, are a more recent addition. "Hama Hama approached us about it," says Smith. "We told them, 'If you can get the approval, we're fine.' We got the blessing of the city to have no more than ten FLUPSYs without requiring a special hearing. We thought we'd have just one guy, but instead, it filled up quickly and now we have a waiting list."
On the Port's industrial land, five cannabis producer/processor operations have moved in since 2012. In addition, Shearer Brothers Chipping is a long-term tenant, along with Lynch Creek Farms, which continues to expand. "Lynch Creek has at least quadrupled their business," says Smith. "It's a huge success story for them." The property also includes a short rail line that the Port manages and maintains.
Serving as a hub for so much commerce means the Port is one of the biggest economic drivers for the City of Shelton. "It's a tremendous impact," says James Thomas, chairman of the board of the Mason County Economic Development Council. "A bunch of businesses located on Port property bring in lots of money and create a lot of jobs. Wendy Smith is fantastic, and the Port commissioners are doing all of the right things."
In 2017, the Port was recognized for a public partnership with radio station iFIBER One News Radio by the Washington Public Ports Association. Every Wednesday, Smith alongside one of the commissioners has a ten-minute segment on iFIBER One to share news about the Port. "We've gotten good feedback from folks who live in the Port district," says Jeff Slakey, host of the station's Daybreak show. "It's another opportunity for listeners to get a better understanding of what's happening in the county."
If Thomas has his way, future news will include more facilities for businesses on Port property. "They're full up right now, as I understand it," he says. "I'd like to see more buildings so people have a place to move. I know they're working on it. We look forward to filling every space they can build."
To learn more about the Port of Shelton, visit The Port of Shelton online or call 360-426-1151.
Sponsored